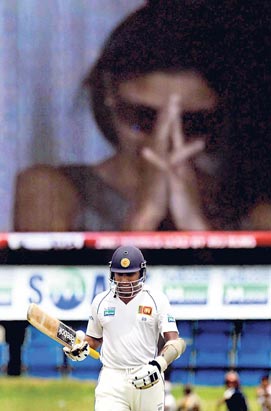 Caught: The anguish of a partner
Though Sri Lanka are heading for victory in their second test against New Zealand, it was a moment of mixed emotions for star batsman and former skipper Mahela Jayewardena's wife at the SSC grounds yesterday. A giant screen shows Mahela's wife, Christina, expressing her disappointment as he is dismissed for the second time in the nervous ninetees. Pic by Sanka Vidanagama
'Hollywood can learn from these kids'

Three decades of brutal war have come to a close but there's no time for a sigh of relief. Much work needs to be done in picking up the pieces and rebuilding Sri Lanka, and one integral part of this effort is the 'reconciliation activities'. These involve bridging ethnic divides and creating understanding between the ethnic groups.
F&G directors meet in Welikada prison on payment plan

Directors of two companies F& G Real Estate Co Ltd and F&G Property Developers (Pvt) Ltd held board meetings inside the Welikada Magazine Prison this week and unanimously adopted two separate resolutions to repay a sum of around Rs.8.3 billion to 5,600 depositors.
Racism thrives in Obama's America

Why does America, after electing President Barrack Obama, continue to be racist? There may be many explanations. One of them is that by installing him at the highest position in the country, the Whites feel that they have cleared the debt they owed to the non-White world.
Helping your Child learn to read

This is the question we parents are always trying to answer. It's good that children ask questions: that's the best way to learn. All children have two wonderful resources for learning--imagination and curiosity. As a parent, you can awaken your children to the joy of learning by encouraging their imagination and curiosity.
Living at the top

Hypothetically, imagine … if you win the grand lottery draw you may be overwhelmed by that momentary jubilation, but it would take some time to realize how much that occurrence will affect your life and the changes it will bring forth in your social and family life.
Scandal-hit Trinco land deals halted

Trincomalee's Government Agent Ranjith Silva, a retired Major General, has ordered the immediate suspension of all new registration of land. The move is intended to prevent illegal transactions of land until a full probe is conducted.

Diplomatic row with Britain over visa-free woman

Sri Lanka on Friday sought an explanation from Britain on how a local passport holder was helped by a High Commission official in Colombo to travel to London without a valid visa.
The executive circus
The vexed question of the future of the Executive Presidency has been raised once again - needless to say, by the Opposition. The Government is, however, strenuously defending the system it once equally strenuously opposed when it was introduced back in 1978.
Opposition guns for Executive Presidency -- Political Column

True, politicians make strange bedfellows. There are those who bitterly oppose their rivals, sometimes to the point of trying to make them extinct. Occasions change.
K

ublai Khan - The end of a majestic trail

Dubbed Kublai Khan for his majestic form, the eight-foot tusker who died last Sunday was a favourite with visitors to the Yala park. Here veteran wildlife photographer and researcher Lal Anthonis who has been studying the Yala tuskers for decades shares his fascination with Kublai Khan dating back all of 20 years….
Sri Lanka promotes Non-Alignment

Forty eight years ago, on September 1, 1961, heads of state or government of 25 nations met in Belgrade, capital of Yugoslavia at the first Summit of Non-Aligned Nations.
MOST VIEWED ARTICLES




LATEST NEWS