Hockey and rugby has played a big part in Tissa Ettipola's life. His love for hockey led him to marry woman star player Nimal (nee Jayasuriya) and his association with the game ended abruptly when he was slapped with a five year ban for allegedly assaulting umpire A. Mylvaganam! This happened at the Badulla Hockey Nationals in 1972. Rugby on the other hand, brought him fame in the 60's.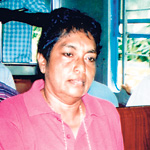 Nimal Ettipola
For those who have not been following hockey in Sri Lanka, Nimal happens to be the youngest daughter of Walter Jayasuriya affectionately known as the 'Father of Sri Lanka Hockey' due to his involvement in staging Sri Lanka's first ever Hockey Nationals with T.M.N. Mahmooth at Galle Face in 1956 where Sir John Kotalawela was the chief guest. Mercantile and Matale emerged joint champions that year.
Nimal herself is not a greenhorn when it comes to hockey. She is a national player with many firsts to her credit. She has coached Visakha, and is Sujatha Vidyalaya Nugegoda's first hockey skipper. She is a member of the BRC, captain of the now defunct Ceylonese Ladies Hockey Club and a pioneer in staging Sri Lanka's first ever schools hockey nationals with Trixi Jayasuriya. Nimal is an umpire and a vice president of the Sri Lanka Hockey Federation and has links with the Malaysian hockey - being the coordinator for Sri Lanka and Malaysia.
Tissa's son Nilupa captained the DS Senanayake hockey team and turned out for Colombo Schools, Sri Lanka Schools, Seylan Bank and Mercantile. His daughter-in-law Samantha played for Colombo Schools, SriLankan Airlines and Mercantile hockey.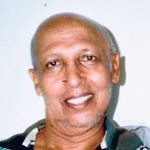 Tissa Ettipola
Tissa hails from St. Thomas' Matale but strangely never played hockey whilst in Matale, though he had been dabbling with the game. He was actively involved in football. He was coached by Adnan de Silva and Fr, Sinappa, Tony Direcksz and Mahinda Aluvihare. In later years he played for Army Sappers with players such as Jaimon, Karunapala, CS Fernando, SP de Silva and Thamba Ramasamy.
The doors to these sports opened wide when he joined the Sri Lanka Army.
It was a proud year when he first turned out for the Army rugby team with Lucky Witharane and Dr. C. Thuriarajah as his mentors. He donned Army rugby colours in 1964 with stalwarts such as Dr. Thuriarajah, C.S. Fernando, Bertie Dias, Denzil Kobbekaduwa, Edwin, Jayaratne and Neville Sheddon.
In 1967 Tissa left the Army and joined Kandy Lake Club, the club which revolutionized Sri Lankan rugby being the first club to employ rugby players to its ranks. Kandy Lake Club rocked Kandy SC and other leading rugby clubs that year and Tissa attributes its success to the club's owner E.W. Balasuriya. Sri Lanka's dazzling center three-quarter Didacus De Almeida had been instrumental in taking Tissa to Kandy Lake Club.
That year Tissa played as hooker for Kandy Lake Club with players such as Maurice Silva, M.A. Majeed, Didacus De Almeida and Mahes Sabaratnam.Tissa donned the pink and brown Havelocks jersey in 1968 and turned out for the Park Club with greats such as Glen Vanlangenberg, Gamini Fernando, Noel Brohier, Jeyer Rodriguez, Tyrone Holdenbottle, Jeff Rutnam, Gogi Tillekeratne and Sundaralingam. He was a member of the Havelocks team which emerged Triple Champions as well.
In an abrupt turn around Tissa concentrated more on hockey and in 1972 he turned out for Mercantile at the Nationals staged in Badulla. The sports crazy town of Badulla adored their own hockey star M.I. Khan and the vociferous crowd supported Badulla to the hilt.
The Mercantile team bristled with international class players such as skipper A.D. McIntyre and effervescent Subhash Fernando. The Mercantile team cut a dashing figure at the nationals on and off the field with their natty caps and confidence. Every opposing team wanted to beat the side! However such a thing was a far cry with the talent available in the team.
On that fateful day when Tissa was ordered off the field for hitting the umpire, Mercantile was pitted against Colombo led by Dennis de Rosayro and Mercantile were beaten 0-1. This set a stumbling block to their chances of winning the coveted title. Off a goal mouth melee Tissa Ettipola, playing at left inside, swung his stick haphazardly and hit umpire A. Mylvaganam on the face opening up a wide cut! Blood burst forth from the wound and Mylvaganam was escorted out of the grounds to be treated. Tissa Ettipola was ordered out! The other umpire at the game was Willie Moses.
Confusion reigned at the grounds. The games came to a stand still. Stunned crowds at the Badulla Stadium watched Tissa getting his marching orders. Hockey officials cuddled in the Uva Rugby Club and after about an hour's deliberation it was decided to continue the competition. Tissa Ettipola had apologized to Mylvaganam and the Umpires Committee decided to accept the apology.
Defence Services and Colombo emerged joint champions that year. This incident cast a pall of gloom on the competition and Mercantile lost much of its glamour and went through the motions of playing the rest of the games as mere obligations.
Subsequently the Sri Lanka Hockey Federation reviewing the situation imposed a five year ban on Ettipola. This cast him into cold storage where the game was concerned. "I had no grudge with Mylvaganam. In fact we have sat together after the incident and enjoyed many a drink," said Ettipola during an interview.
This was confirmed by many sports fans who attended Mylvaganam's funeral when Ettipola was one of Mylvaganam's pall bearers!