I was only little when my father first introduced me to the wild and beautiful places in this island. I still remember as if it were yesterday, travelling by car from one lovely place to another along those lonely beautiful jungle-lined roads, him telling me about the ancient culture of this land, how our monarchs of old preserved our wildlife , the trees and respected all living things; about the building of the great wewas.
The urge to travel, the love of wildlife and wide open spaces grew in me through the years until it gripped me like some incurable disease.
Though all wildlife interested me passionately, no animal could grip me more emotionally and intensely as the elephant. When I saw my first tusker in the Ruhuna national park in 1970, I decided to make a study of these wonderful animals. In the mid 1980s for four years when I was making a film on Sri Lanka's wildlife and on many occasions living in Yala for months at a time I had the opportunity to study them very closely.
Before Kublai Khan there was Mahaputtuwa (1970) and Podiputtuwa (1973). The latter, a fine tusker was killed just outside the Park in 1987 and I did the investigation at the request of Dr. Shelton Attapattu, the then Director of Wildlife. Twelve years later I had to appear at the Tissamaharama Magistrate's Court to give evidence in this case. Then there was Hillary (1983), Roland (1985), Patch (1985), Short Tusk (1985), Rudy aka Thilak (1986), Genghis Khan (1987 August) and then Kublai Khan (December 1987).
Subsequently, there were Anuradha, Gemunu, Mahasen, Nalaka, Kandula, Star (whose tusks are in the Yala Office) and so many others. But on that day in December 1987 on the main road near Patanangala when I first saw Kublai Khan I knew this was the king of them all. Though he was only about six years old, the way he moved, among the herd as if he was the leader, his head held high, was classic.
Extracts from notes made on Kublai Khan over the years:
First sighting: December 1987
Age: About 6 years
Approx height: 4 ½ feet at the shoulder
Condition: Excellent
Tusks: About 9 inches long. Almost symmetrical
As I saw him I knew that this was a fine animal – almost flawless. His posture, his gait were superb. He was with a herd.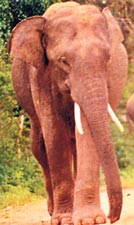 First sighting of Kublai Khan
in 1987
March 1988: Still attached to the herd. One evening at Uraniya the much older and bigger Genghis Khan joined him and they fed together.
May 1989: At Gonagala. He was alone and had noticeably gained height and body weight. He came out of the bush and did a 'mock charge' and then a demonstration, nothing serious. It looked as if he was enjoying himself.
May 1990: Karaugaswala – Still attached to a small herd. His frame had definitely filled out since my last sighting. His tusks had thickened and lengthened. He was in super condition.
February 1991: Malithankotuwala-- He 'mock charged' me on sight. He was looking splendid and was nearly 7 ft at the shoulder. At that time I made a note, " he is undoubtedly one of the finest young tuskers in the park, and if allowed to live will turn out to be a magnificent animal".
November 1991: Sighted near Vepandeniya – still with herd.
February 1992: Buttawa – Gonagala road.
A super animal in super condition. He 'mock charged' me head on and then demonstrated a few times. After that he settled down and leaned on a tree by the side of my vehicle. Immediately I made visual contact of the point of the tree where his shoulder had touched and Ravi (late Dr. Ravi Samarasinghe) did the same. A few minutes after he had gone off I got the tracker Mahindadasa to measure the height and found it was 7 ½ feet.
(This is done with a string I have with me all the time in my vehicle for exactly this purpose and for measuring the circumference of an elephant spoor. )
December 31 1995: Ravi and I left the Heenwewa lodge for our evening game drive at 3.45 p.m . Kublai Khan was on the middle of the road just past Gonagala Kema. "What a way to end the year" – I wrote in my notebook. He was easily 8 feet at shoulder. His left tusk, the longer one was now about 23 inches.
He charged the moment he heard my vehicle, repeated it a few minutes later, then settled down. He was undoubtedly the Adonis among elephants in Yala. He was with a herd of seven elephants and they looked very nervous, fidgety and shy. Both Ravi and I felt that these elephants had come from across the Menik Ganga and were strangers to the Park.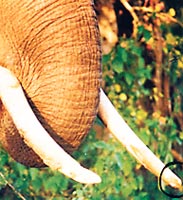 The decayed tusk
For two days along this road Ravi and I noticed, close to the place of sighting, and by the side of the road at Rathmalgaswala, some damage to the barks of some trees. All trees had identical marks, one large gash and two to the left of it. They were typical of the flares made by a tusker on a tree. Though usually they would be about 9 ft from ground level, these were only about 1 ½ ft from ground level. Both of us and our tracker thought that Kublai was responsible – but why? We got our answer in March 1996.
March 1996 : Yala Plain just below Handunoruwa. Hardly any noticeable changes from last sighting but I noticed that the left tusk had a definite chip. Zooming in, we found it looked like a decay, just like that of a human tooth. Ravi and I surmised that this must be causing a fair amount of irritation and that is why he was flaring the trees and at that angle at that height above ground level (1 ½ ft). (Usually a tusk is not that sensitive at the tip so there was a certain amount of mystery).
That evening I wrote in my note book " I was amazed to see the amount of maturity an elephant can acquire in just 5 years."
February 11, 1997:-Diganwala around 6 p.m. Strangely he seemed rather shy and waited in the undergrowth for about 15 minutes looking suspiciously at us through the bushes. He emerged from the bushes and drank his fill from Diganwala ( Wildlife & Nature Protection Society greeting card 1998).
Then he did a strange thing – while throwing sand on himself by the side of the road –he swallowed two big mouthfuls of sand. (It has been observed that elephants eat dollops of soil and mud after a prolonged drought. Research done by J.S. Weir in Africa showed that soil eaten by elephants contained a huge volume of water-soluble sodium – a chemical elephants lose during a drought). But in this case it was sand.
Ravi and I observed that the chip or 'decay' on the tip of the left tusk had got completely covered up

February 20, 2000: 11.30 a.m. on the road to Patanangala Lodge. Covered in bright red mud. Looked healthy and much fatter than I have ever seen him. His tusks were definitely thicker than when I had seen him last, giving the impression that they were shorter.
It had been three years and 9 days since I had seen him last and I was amazed at how much more mature his facial features had become. He looked much older than he really was. His gait had become heavier and that grace of movement that he had, had become rather cumbersome.
January 18, 2001: Almost 12 noon Ravi and I spotted him across the Gonalabba Plain walking towards Patanangala. That same evening guessing he would come to Patanangala we headed straight there around 4 p.m. Just before the turn off to the wewa on the road to the lodge I almost ran into him as he stepped on to the road from my left.
Like the last time I saw him on the 20th February 2000 he was covered in red mud and once again looked in super condition. In fact he looked younger than last year and Ravi, as if reading my thoughts said this aloud. No significant or visible growth in tusks. He bathed in the wewa and got on to the bund.
February, 2002: Patanangala fishing wadi road enjoying a mud bath in a mud hole by the side of the road.

May 2003: Followed him along the Gonalabba Meda Para and once again he looked in fine fettle.

March 2004: Ravi and I were at the Salt Corporation bungalow and were returning after our morning game drive when just before Diganwala, Kublai Khan came on to the road. After looking at my vehicle for some time he tossed his head and came right up, Ravi who was seated behind me and I could have touched him. He stood there for some time funnily with his head hanging low. Then suddenly he turned round and as if something had occurred in his mind, entered the tinder dry undergrowth, silent as a puff of smoke.
August 24 2009: Manori Gunawardena called me from Yala to give me the news of Kublai Khan's death. Stunned, I kept on asking her whether it was definitely Kublai and she told me it was - that she had checked the ears. I consoled myself that at least the last fall of Kublai Khan was perpetrated by nature itself and not at the hands of unscrupulous man.
The fall of a majestic beast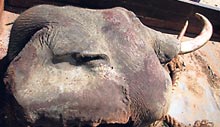 Pix courtesy Wildlife and Nature Protection Society of Sri Lanka
The carcass of Kublai Khan was found at Heen- wewa on August 23 and the postmortem conducted the same evening. There could be two possible causes of death, said Chief Vet of the Wildlife Department Dr. Tharaka Prasad- a bacterial infection in the blood or poisoning, though the latter was somewhat unlikely given the location of the death.
Tests are being conducted by the Veterinary Research Institute in Gannoruwa but it could be a week before the results are released, Dr. Prasad said, ruling out gunshot injuries as a cause of death.
Wildlife biologist Manori Gunawardena who had spent 12 years studying the elephants at Yala and who happened to be on holiday there at the time was called in by Wildlife officials to help identify the dead elephant. "Most male elephants in Sri Lanka die of unnatural causes- gunshot injuries is the No.1 killer but that has been ruled out in this case. Most likely it was an infection that occurred after a fight with another elephant," she said.