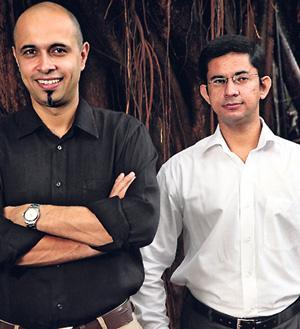 From left -- Ajai Vir Singh Vice President and Country Head Grey Colombo and Sailesh Wadhwa, Director Strategic Planning and Brand Services.
Grey Colombo's 'Garments without Guilt' campaign has won another award, its fourth since the highly successful campaign some years back. It was adjudged a winner in Best Digital Marketing Campaign from Asia category. at the recently judged Promotion Marketing Awards of Asia 2009. Grey's winning campaign in addition also picked up a certificate of merit in another category of Best Cause Marketing Campaign.
"Garments Without Guilt has become synonymous with Grey Group's signature approach to creative effectiveness, and we are excited that the world is applauding our efforts." said Ajai Vir Singh, VP and Country Head, Grey Colombo, in a statement.
Promotion Marketing Awards of Asia better known as the Dragons of Asia now are in their 10th year have been instrumental in recognising and showcasing extra-ordinary Creative Effectiveness Campaigns from across Asia and have witnessed the massive growth of the industry throughout Asia.