ORANGE, California, Aug 29 (AFP) - Californian kidnap victim Jaycee Lee Dugard feels guilty for forming a bond with the man who abducted her as a schoolgirl and held her prisoner for 18 years, her stepfather said Friday.
Carl Probyn, who watched helplessly as 11-year-old Dugard was snatched from outside her home in South Lake Tahoe in 1991, said his former stepdaughter had been reunited with her mother and half-sister after being found this week.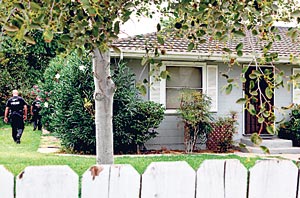 Pittsburg, California police officers stand in front of the home of alleged kidnapper Phillip Garrido as they search the property August 28, in Antioch, California
Dugard, now 29, was held prisoner by convicted rapist Phillip Garrido in a secret backyard compound in Antioch, east of San Francisco, where she was raped and gave birth to two children by Garrido.
Her near two-decade ordeal came to an end on Wednesday when authorities learned her identity. However Probyn told reporters that the woman was now struggling to come to terms with what had been inflicted upon her.
"Jaycee feels that she has real regrets for bonding with this guy," Probyn told reporters outside his home in Orange, south of Los Angeles.
Dugard and the daughters she had with Garrido had felt nervous having dinner in public after being freed this week. "They had to leave because the girls weren't used to having people around them," Probyn said.
Dugard however "remembered everything" from her childhood, Probyn revealed after speaking to his ex-wife, who had been reunited with her daughter at a motel outside San Francisco.