The killing of Colombo's most dreaded underworld godfather, Sheikh Fareed Mohammed Fazil better known as Faji, in a shootout with Special Task Force commandos on Friday at Maligawatte, has sounded the death knell for what police believe to be the last remaining criminal syndicate that terrorized the city.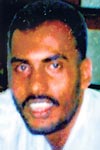 Faji
Faji, 33, was killed along with two of his loyal companions, identified as Mohamed Ziyath alias Army Toji and Mohammed Sadeek, in a rooftop gunfight with the commandos who raided one of his safe houses at Jumma Masjid Road, Maligawatte.
Police said the trio who were being hunted for some 35 murders, opened fire at the commandos from the STF's elite Special Weapons and Tactics (SWAT) unit.
Detectives said Faji and his gang had also been involved in the drug trade, extortions and abductions and had been hiding since the police began a crackdown on the underworld two months ago in keeping with a government directive.
Prior to this crackdown, Faji had been moving freely in Colombo, despite an open warrant being issued for his arrest, because of his connection with top political figures in the city.
The countdown to zero hour in the hunt for Faji began an hour after midnight on Friday when the STF intelligence wing received information that an armed gang was seen at Jumma Masjid Road.
Intelligence wing officers then telephoned Deputy Inspector General K.L.M Sarathchandra, the STF Chief, briefed him on the situation and obtained instructions. Immediately after the briefing, a team comprising commandos from the STF intelligence wing and the SWAT unit was assembled and deployed to raid Faji's hideout.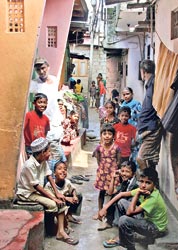 The alley that leads to Faji's Maligawatte house.
The team arrived at Maligawatte around 3 a.m. and cordoned off all entry and exit points of Jumma Masjid Road. A separate team was tasked to form a ring around the hideout and trap Faji and his gang.
The team moved into a narrow alleyway with houses on both sides. They reached the house where Faji and his gang were staying. As they climbed the narrow stair case in the two-storied house, one of Faji's loyalists shouted in Tamil, "Poda, Poda (Go, Go)" – urging his master to escape.
Commandos posted outside saw Faji running with "Army Toji" and Sadeek on top of the asbestos roofs. When the team ordered them to halt, the trio opened fire. The sound of the gunshots was heard by the neighbours who were already awake for sahar, the pre-dawn meal Muslims partake to begin the fast.
The three underworld kingpins were critically wounded and died while being taken to hospital, according to detectives.
On top of the roof where Faji and his two companions were shot, the STF recovered two T-56 assault rifles, a CZ 9mm pistol, five Type 82 grenades and two Nokia cellular phones.
Detectives said the house where Faji was found was forcibly taken by him. He had built an elaborate network of secret passageways inside it. Investigations led the commandos at the scene to another house said to be frequented by Faji. Here they discovered a secret passage through a pantry cupboard, leading to another room. The 2'x2' back panel of the pantry cupboard was the door to the inner chamber where detectives found a cooling fan and a mattress believed to have been used by Faji. On the wall of the room, two big vents provided a way out. They were covered with wooden sheets.
Munziya Yussuf, one of the occupants of this house, told the Sunday Times they moved into this house only ten days ago and they knew nothing about the secret passageway until the STF came to their doorstep.
Faji, who was a popular soccer player, had got involved with the underworld after he left his wife and two daughters for a woman in the area. She was known as Kudu Chooti, a drug peddler working for Anamalu Imtiyaz, who was then dominating the underworld in Maligawatte. It was Chooti who introduced Faji to Anamalu Imtiyaz, whose bullet-riddled body was found at Pettah on July 9.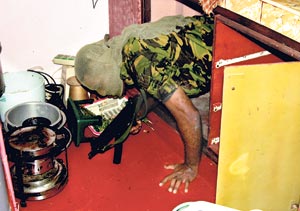 An STF commando creeps out of the pantry cupboard door that led to Faji's secret chamber.
As Faji climbed up the underworld hierarchy from being a drug peddler to contract killer and eventually becoming the number two in Anamalu Imtiyaz's gang, he was eventually arrested in a police raid.
However, he was released just before the Western Provincial Council elections in February. But by this time, Faji had fallen out with Anamalu Imtiyaz, effectively splitting the Maligawatte underworld.
Faji's gang rose to become more powerful of the two, because of its political connections, forcing Imtiyaz to withdraw from Maligawatte. But he vowed to return and regain his lost position.
Imtiyaz tried to kill Faji but he failed. Imtiyaz was abducted in Kuliyapitiya two days before his body was dumped in Pettah by an unidentified group commonly known by the locals in Maligawatte as the "unit".
Faji's father-in-law M.A.H Faizer told the Sunday Times that the death of Faji was his own seeking and his family had tried many times to pull him out of the underworld.
"Faji was once happily married. He was a talented soccer player and had won several cups. I would mainly blame Kudu Chooti for his tragic end. She is responsible for breaking my daughter's marriage and introducing him to the underworld," he said talking to us in the balcony that overlooks a major part of Jumma Masjid Road.
"After he got involved with the underworld, he rarely spoke to us and he only came to see his two daughters. He spent a lot for the family despite his affair with Chooti. Once he was arrested we cut off all ties with him. We asked him to change his way of life but he never listened to us. He was stubborn," Faizer said.