Summa Navaratnam, the renowned sportsman and business executive, was recently felicitated at a ceremony held in Colombo marking the end of his mercantile career of over five decades. He retired from Ceylon and Foreign Trades PLC where he had served as General Manager for 16 years.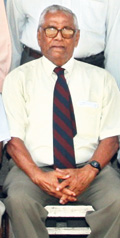 Summa Navaratnam
Mr Navaratnam distinguished himself as a sportsman at Royal College where he captained the athletics and rugby teams, later representing Ceylon in athletics and rugby. He also served on the board of CFT and its subsidiaries and relinquished office as Vice Chairman of Business Chamber of Commerce. Mr Navaratnam began his Mercantile career as a Junior Trading Executive of Dodwell & Company's Colombo Branch where he learnt the intricacies of commodity and spice trading.
Following Dodwell's closure, he joined the Stores & Sales Department of Colombo Commercial Company and in 1968, when the State Trading Corporation (Consolidated Exports) or Consolexpo as it was best known was set up.
He left the country in 1983 but returned in 1989 when he was persuaded to accept the position of General Manager of Consolexpo for three years and is credited for reviving the then flagging corporation. He joined CFT as General Manager in 1993 and was later appointed to the board of the company and its subsidiaries.