Health officials are gearing up for another battle against the deadly dengue mosquito as the inter-monsoon period sets in. This year has seen the highest number of dengue fever cases reported so far in the past four years.
Between January 1 and the last week of August 2009, dengue claimed 245 lives, and 24,629 people came down with dengue fever. The majority of the patients were children. There were 5,994 dengue cases in 2005; 11,980 in 2006, and 7,314 in 2007. Last year there were 85 deaths and 6,556 cases.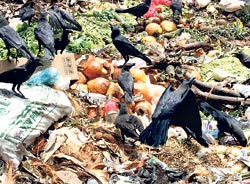 Uncleared garbage makes an ideal breeding environment for the dengue mosquito
There has been a dramatic increase in dengue incidence in the past year. This month alone 2,387 cases were reported. The peak month was June, with at least 7,048 cases of dengue fever reported and 50 deaths. Dengue tends to be on the increase in the last few months of the year and at the beginning of the monsoon period, according to Dr. Palitha Mahipala, director, Public Health Services, Ministry of Health.
Poor waste management and public indifference about how garbage was disposed of were the main factors contributing to the spread of the dengue mosquito. "The last time there were rains, we recorded an average 700 dengue cases a week," he said.
"The dengue experts from Cuba commented on the piles of garbage lying around the city and all the towns they visited."
– Dr. Palitha Mahipala, Public Health Services
director, Ministry of Health
"The dengue experts from Cuba who were in the country recently commented on the piles of garbage lying around in the city and all the towns they visited. They noted the lack of a proper garbage disposal system," Dr. Mahipala said.
A strong community effort and better co-operation between local government and health, education and environment authorities were essentials in controlling the spread of dengue fever, he added.
"We should give priority to cleaning the immediate environment, and public involvement is necessary for that," he said.
Building sites, especially abandoned sites, are at the top of the list of potential mosquito breeding grounds, according to Dr. Nimalka Pannilahetti, consultant community physician, Dengue Control Unit, Ministry of Health.
"Neglected premises have become a serious problem, especially sites that were abandoned because of the economic slump," Dr. Pannilahetti said. "We intend to take up the matter with the Ministry for Urban Development."
She said mosquitoes flourished wherever conditions were favourable for breeding, and this included the homes of the affluent.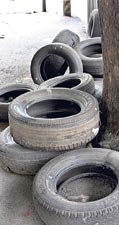 Tyres can be receptacles for stagnant water
"We have found many residences belonging to professionals to be breeding grounds for the dengue mosquito," she said. "Drains, gutters, bird baths, ponds and flower pots – all these should be periodically checked." Other places known to encourage mosquito breeding are railway complexes, bus depots and garages.
Kandy heads the list of places in the island where dengue is most prevalent. The hill capital has recorded 35 deaths and 3,343 cases of dengue fever so far this year. Kandy residents are notorious for dumping garbage in the streets, a problem that is causing headaches for the Kandy Municipal Council.
Dr. Asoka Senarath, chief medical officer, Kandy Municpal Council, said public health officers and volunteers were working hard to raise levels of health awareness and promote disease prevention practices among the Kandy community. He said indifference to hygiene and health care was widespread.
"People here discard garbage without bothering to tie the bags. Empty curd pots are thrown in gardens and on roads, and these collect water and become mosquito breeding spots. A radical change in behaviour patterns is needed here," he said.
Dr. S. Thadsanamoorthy, regional epidemiologist, Batticoloa district, said unclean domestic water storage tanks were the main reason for the increase in dengue cases in Palamunai, Kalawanchikudy and Kalmunai.
Dr. Pradeep Kariyawasam, chief medical officer, Colombo Municipal Council, observed that 66 per cent of the city's dengue victims were schoolchildren. He said children were vulnerable to the dengue mosquito, which is active during the day. "School principals should be extra-vigilant," he said. "We have also noted a number of cases from international and private schools."
Dr. Kariyawasam said fogging (anti-mosquito spraying) campaigns would be intensified during the rainy months from September to November.
Colombo district has reported 30 dengue deaths and 3,210 dengue cases so far this year.
Health officials in Tangalle say they have been forced to take legal action against residents who consistently failed to keep their immediate environment clean and mosquito free.
Meanwhile, the Meteorology Department forecasts heavy showers accompanied by thunderstorms in October and November.
Met Department deputy director S. R. Jayasekare said the inter-monsoon period brings rain to all parts of the country.
"During the south-west and north-east monsoons, only parts of the island receive showers. But in the inter-monsoon period, evening thundershowers occur in all parts of the country," he said.