Whoever said that there are no permanent enemies in politics but only permanent interests is not altogether right.
True, politicians make strange bedfellows. There are those who bitterly oppose their rivals, sometimes to the point of trying to make them extinct. Occasions change. Then they not only hug each other in warm embrace like long lost lovers. The formidable make sure their new love is fawned and feathered.
Are there permanent interests? Recent events in Sri Lanka's political firmament show that even permanent interests could become impermanent. In the mid 1980s, then Indian Prime Minister Indira Gandhi's administration set up training camps in India's southern states for guerrillas to fight a separatist war in Sri Lanka. She was paranoid of the then President J.R. Jayewardene's pro-American leanings.
'Yankee Dicky', as some identified him, was working a deal with a US company (registered in the Bahamas) to take over the abandoned World War II vintage oil storage tanks in Trincomalee. The nearly 100 tanks with a million gallon capacity in each, there evoked fears across the Palk Straits, because there were military connotations in the strategic northeastern port city. Indian protests forced the Sri Lanka Government to abandon the project altogether.
However, guerrilla groups of different hues with different identities were armed and supplied. A decade later, one of the groups, the Liberation Tigers of Tamil Eelam (LTTE), had become a monster. It not only swallowed up the other Tamil militant groups, including the one most favoured by Ms. Gandhi herself, the Tamil Eelam Liberation Organisation (TELO), but veered course from its creator. The LTTE assassinated Indira Gandhi's son, Rajiv, himself a former Prime Minister, in May 1991 in the southern Indian town of Sriperumpudur. Tipped to be Premier again, he was then on a polls tour.
Eighteen years later, it took his wife Sonia Gandhi to help kill that monster, the LTTE, which her mother-in-law had created and nurtured. That her Congress-led Government in India is a key shareholder in the military defeat of Tiger guerrillas in Sri Lanka has been acknowledged by Government leaders. Even if New Delhi did not provide military hardware, it gave something equally lethal - very valuable intelligence and other inputs.
India has thus seen the birth, growth and the recent military death of Tiger guerrillas. Yet India was not the loser in this game. It won in many ways. Where the Americans failed to get a toehold in Trincomalee, India has gained a foothold. The state-owned Indian Oil Corporation (IOC) has now been leased out a part of the abandoned oil storage tanks. This is in partnership with the Ceylon Petroleum Corporation. India is building a major power station in Uppuveli, blocks away from the showpiece resort areas. Other projects are in the pipeline.
The events that have played over the past three decades have shown that even permanent interests change.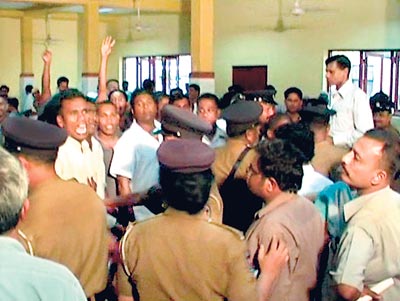 Pandemonium at Samaraweera's Kurunegala Nidahase Janahamuwa meeting. Pic by Pushpakumara Jayaratne
Another such significant one is Sri Lanka's Constitution with an Executive Presidency, a legacy left behind by the late President Jayewardene. Voted to power at the July 1977 parliamentary elections with an overwhelming five-sixths majority, his Government moved to amend the then Republican Constitution. The late Prime Minister Sirimavo Bandaranaike who headed a coalition Government had introduced it back in 1972.
Later, the change in the entire constitutional process was cleverly steered by Jayewardene. He declared during the polls campaign that a vote for the United National Party (UNP) was also a mandate for a revision of the Constitution. Upon victory, a Parliamentary Select Committee examined the changes. A new Constitution took effect on September 7, 1978 paving the way for an Executive President.
On the thirtieth anniversary of Sri Lanka's independence (February 4, 1978), Prime Minister Jayewardene became President Jayewardene. He became both Head of Government and Head of State and served two terms. An assassin cut his successor, Ranasinghe Premadasa's stint short. D.B. Wijetunga, then a nondescript politician and Prime Minister, succeeded. As against three incumbent presidents from the UNP, two from the rival Sri Lanka Freedom Party (SLFP) have held office so far. They are Chandrika Bandaranaike Kumaratunga and her successor, Mahinda Rajapaksa.
Both Kumaratunga and Rajapaksa, whilst in opposition, have been bitter critics of the 1978 Constitution. The former called it the "Bahubootha Aandu Krama Viyastawa" (clownish Constitution) and promised in writing to the Janatha Vimukthi Peramuna (JVP), during her presidential election campaign, to abolish that office. In doing so, she gave truth to late Jayewardene's quip to adversaries on the presidential system that they talk foolishly when they were in the Opposition but would act wisely when they assumed office. Though he is no longer living, his words of wisdom ring true even today.
If President Rajapaksa was a strong critic of the 1978 Constitution, he is no longer. One of his spokespersons, Media Minister Lakshman Yapa Abeywardene, declared only last Wednesday, "the Government is not ready to amend the country's Constitution in an improper manner." He said President Rajapaksa has united the nation by defeating (militarily) the Tiger guerrillas. The people were waiting to show their gratitude by voting him again as President.
Today's UNP wants to abolish the Executive Presidency, the creation of one of its founding fathers. The party has decided that this would be a main issue in a new common alliance against the Government it will forge against the government. Such an alliance with like-minded groups is to be a reality in the coming weeks.
Interesting enough, the issue of abolishing the Executive Presidency has become the fine thread that will try and stitch together two arch rival political parties - the UNP and the JVP. SLFP (Mahajana Wing) leader Mangala Samaraweera is once again playing broker to tie the nuptial knot between them. Like one of his previous brokering roles where he persuaded Kumaratunga to accommodate the JVP in her Government, there appears no impediments this time too.
It was Samaraweera who was the go-between in the marriage between the JVP and incumbent President Rajapaksa as well. And it was also the JVP that nudged President Kumaratunga to exercise her full powers as the Executive President to dissolve the 2004 Parliament (elected till 2007), boot out the UNP Government headed by Prime Minister Ranil Wickremesinghe, and go for elections, which the UPFA won. But all that is from a by-gone era.
With the proposed new alliance, Opposition UNP Leader Wickremesinghe is showing signs of becoming both assertive and aggressive. Last week, he was angered by some of his own party men interrupting a meeting in Kurunegala where Samaraweera was one of the key speakers. The occasion was Nidahase Janahamuwa (free gathering of people) at the premises of the Young Men's Buddhist Association. A group in the audience jeered and hurled plastic chairs when Samaraweera was speaking.
Wickremesinghe, who declared, "enough is enough, this cannot go on forever," named a committee to go into the incident. It was headed by Gamini Jayawickrema Perera and comprised Tissa Attanayake (UNP General Secretary), Kabir Hashim and D.M. Swaminathan. Two other party seniors, former Speaker Joseph Michael Perera and Renuka Herath, also attended.
The committee has found that UNP Kurunegala District MP Johnston Fernando, Indika Bandaranayake and two Kurunegala Municipal Councillors were among those responsible for the incident. Worse enough, the committee feels, Fernando colluded with supporters of the Government in carrying out these attacks. Once their report reaches Wickremesinghe, disciplinary action against Fernando and others is to follow. One UNP source said, "They may face expulsion after the due disciplinary process is gone through."
In a separate development this week, the focus on a fast declining image of the Police Department shifted to politicians. Again, it was those on the Government side who were the culprits.
It began when 30-year-old Sajith Kumara Babu was riding a motor cycle in the Kaltota Police area (in the Kalutara district). On the pillion was his friend, Sameera Karunaratne. They were both without helmets, the use of which have been made compulsory under traffic laws.
A woman police officer on duty had signalled them to stop but Babu allegedly ignored the call. Instead, he had swerved the motorcycle towards the WPC, knocked her and proceeded. She sought help. A little distance away, an armed police officer stopped the duo. Babu halted the motorcycle but reportedly fled. Police took into custody Karunaratna.
Babu reportedly telephoned Ratnapura district parliamentarian and Textiles Minister Mahinda Rathnatilleke. He had been in the area inspecting irrigation projects. With his sarong raised to his knee level, he is alleged to have rushed to the Police Station and insulted the WPC in obscene language and asked, "How dare you take our men into custody." The Officer-in-charge of the Police Station was not present.
He had thereafter allegedly opened the cell and taken Karunaratne out. He had then made a complaint that the WPC abused him inside the Police Station. He had also sent a fax message to the Senior Superintendet of Police in charge of the Division. Before his statement was recorded, however, the WPC had made her own complaint giving details of what happened.
Police say Babu, was someone who had come to their adverse notice on many occasions and was facing Court action. It has been over complaints of extorting money, stabbing and robbery. Senior Police officers were angry that a Government politician had taken the law into his own hands when the WPC was doing her duty. This was at a time when the Police Department is accused of wrong doings. They sought to arrest Rathanatilleke but he went missing.
On Wednesday, Rathnatilleke surrendered to the Balangoda Magistrate, Namal Ballale. He released him on Rs 200,000 surety bail and warned him not to threaten or intimidate police officers. The case will be called on January 5, next year.
Rathnatilleke told reporters that persons in civvies had assaulted two persons who had gone out to bring a bottle of drinking water for him. He had been staying at the Irrigation Department Circuit Bungalow. What was brought was not good enough. He had therefore sent two men to get another bottle of water. This was when the incident had occurred, he had said.
On Wednesday, it was clear President Rajapaksa had not believed his suggestion that the two were assaulted when they went to fetch water for Rathnatilleke. He told the weekly Cabinet meeting what could have been done over a phone call has been messed up. He said it was wrong of Rathnatilleke to have behaved in that manner and asserted that no Government minister should resort to such conduct.
He also took the opportunity to clarify matters relating to the recent detection of 20 claymore mines by the Colombo Crime Division (CCD) of the Police. Their claim that these mines were detected in a van in Mannar, Rajapaksa said, was incorrect. He said it had been discovered in Vavuniya. It was to be transported in the vehicle from Mannar but that had not happened. Instead, a wrong story has been projected.
Rajapaksa was critical of Media Minister Anura Priyadarshana Yapa and complained that some misleading media statements by the opposition were not being challenged. He cited recent remarks by UNP Kurunegala district parliamentarian Dayasiri Jayasekera against the Police. In one such statement last Sunday, Jayasekera had said that in the absence of the Police Commission, there was no place for independent and efficient Police Officers.
He was also quoted as saying, "Everyone is worried that if they take a decision against a supporter of the UPFA, they might get a transfer or their career will suffer and the HQIs and the OICs are political appointees, and in decisive moments they become the pawns of the government politicians."
Rajapaksa also rapped the Media Minister for reportedly berating a columnist in a Sinhala newspaper. He was asked not to be offensive to journalists who had helped them in difficult times in the past.
With both the presidential and parliamentary elections pending, Rajapaksa, it is clear, is worried about a slow moving Media Ministry. It was not so long ago, exasperated as he was, he threatened to take over the Media Ministry under his own wing.
While the Opposition has ear-marked the Executive Presidency to be the rallying point to oppose the administration of Rajapaksa, and thereby challenge him directly, Rajapaksa himself is showing he is sensitive to what's going on in the country and moving rapidly to arrest criticism for his style of government.
His uneasiness with what's happening in the Police vis-a-vis indiscipline, his crackdown on underworld crime, and recent outbursts on the manner in which the country's foreign policy is being handled are some of the areas drawing his immediate attention.