With reference to the Sunday Times story headlined "'Musical chairs' continue for Sri Lanka envoys" (August 16), Foreign Minister Rohita Bogollagama's former Public Relations Officer Berni Elmo Leonidas, has sent us a letter saying the note he got from the Foreign Ministry had not said he was sacked. He states:
"….when I returned, I received a letter indicating that whilst I was away, another official had been asked to act in my capacity at the Foreign Ministry as the post could not be kept vacant over a long period and public relations work allowed to accumulate.
This is, I believe, the done thing in any organisation, be it government or private. I must say that nowhere in that letter was it stated that my services had been terminated. I was only informed that my work was being done by another and requested to return my official vehicle to the ministry.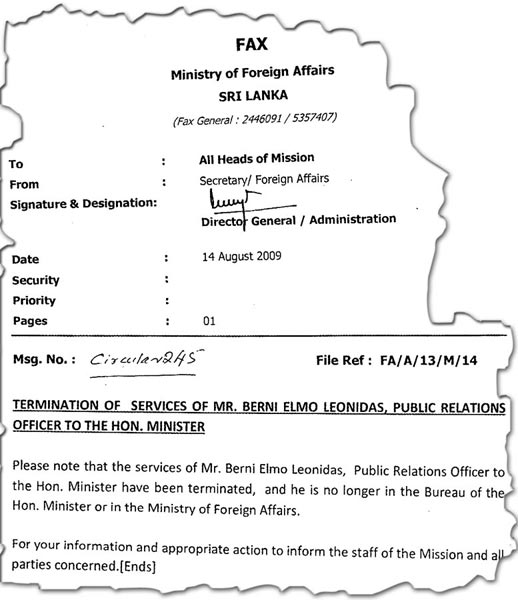 The Foreign Ministry fax
Therefore, I don't see how the writer has come to the conclusion that I had been sacked. I believe he/she may have been misled by a source at the Ministry. If the writer had taken the trouble to contact me for verification, I am sure he/she would not have erred in writing."
Note by our Diplomatic Editor: How we came to the conclusion Mr. Leonidas had been sacked was by the Circular from the Secretary, Ministry of Foreign Affairs and sent by the Director General/ Administration to all heads of Mission overseas saying that Mr. Leonidas' services "have been terminated, and he no is no longer in the Bureau of the Hon. Minister or in the Ministry of Foreign Affairs" (a copy of which is reproduced above). In our terminology, services "terminated" means "sacked".