There are heroes and there are legends, and then there is Dr. S. N. B. Talwatte. Born on October 29, 1924, Dr. Talwatte filled the next 84 years and 10 months of his life with magic and creativity. Great men fight to the end .This he did, and he did it with dignity, until 1 pm, July 16, 2009. He played many roles in life: loving husband, father, grandfather, brother, uncle, teacher, doctor and friend to all. He was a fine example of a true and humble leader who earned respect without demanding it. To me he was Loku Mama, Aththa and a friendly doctor – a doctor who did much more than merely listen, diagnose and prescribe medicines.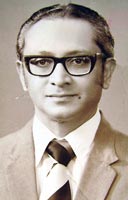 Dr. S. N. B. Talwatte
Hailing from the sacred city of Kandy, he was born to the late Dr. J. A. Talwatte and Mrs. T. K. Talwatte (nee Wadugodapitiya). After the sudden loss of his father in 1959, he took on the role of patriarch of the Talwatte clan at the tender age of 35. This position did not come with a free car and a bonus. It came with responsibilities that he gladly and courageously took on.
After 12 academically outstanding years at Trinity College, Kandy, he went on to Medical College to fulfil his dream of becoming a doctor. He passed out with flying colours, qualifying as a radiologist. He served the government for 39 years.
By nature compassionate, he saved countless lives through his private practice (he never cared for monetary benefits). He was one of those rare, dedicated doctors who would rather lose sleep than neglect his patients. Every single night he would do his "home work", as he described his rounds visiting patients in their homes.
His home at No. 14/1 Cambridge Terrace, Colombo 7, became my second home. His conversation was wide-ranging, going from family to cricket to the pronunciation of the English news presenters. Our discussions were always interesting, educational and highly enjoyable.
There were times when we would argue. Rather than get angry, he would give me his familiar smile, a smile that spoke a million words. That understanding, reassuring smile was warm as a blanket to keep an Eskimo snug and content.
When he did have to be stern with me (this was inevitable because of my extreme stubbornness), he would call my mother after I got back home to check how I was. This showed he had no malice and was a true gentleman who was only doing his duty as head of the family. His role was to correct us and be the light that guided us back onto the right path.
On night Dr. Hodhahitha confessed to me that he had never attended a dance in his life, and that it was one of his great regrets. I am sorry I did not tell him that dancing could be done anywhere, even if only in one's heart, and that if life was a song, Loku Mama would have danced, oh how he would have danced.
"He is a never-ending song in my heart, of comfort, happiness, and being. I may sometimes forget the words but I will always remember the tune."
S. Senanayake