I had the honour to share our house in Belgravia, London, with the late Shyamlal Rajapaksa in the early 1990s, with my late wife Isabella Blow. My mother Helga de Silva Blow Perera is from Sri Lanka and the two families are close friends. I was practising at the Bar, Isabella was working at British Vogue, and the basement of our house was rented by Philip Treacy, the famous hat maker.
Shyamlal was clearly, even then, at 22, a remarkable young man. His father George Rajapaksa, a Sri Lankan Cabinet Minister, had died in the 1970s, when Shyamlal was a boy. He and his older sister (who herself became a MP in Sri Lanka in her 20s) were brought up by their remarkable mother, Lalitha, a lady of fierce courage, intelligence, generosity and humour – all attributes that her son inherited.
Shyamlal came to England for the first time at the age of 18. Within two years he had passed his LLB, at the University of Buckingham. He passed his Bar exams at the age of 21, and then came to live with us while he studied for his LLM.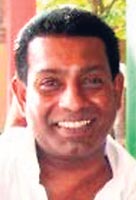 It was a very interesting and exciting household. Isabella's career in the fashion world was taking off, and Shyamlal was a charming, handsome young man who enjoyed going out, when his studies were over, and partying hard, which we often did together. Even then, he was interested in human rights and in his spare time worked as a volunteer for Amnesty International.
Shyamlal wore his achievements with great modesty. It is a guise that very intelligent and capable people use to avoid sounding pretentious and pompous. When you talked to Shyamlal, you soon became aware of his overriding passion for human rights and fundamental freedoms -– the right of people to go about their lives in a decent and humane way without being persecuted for their beliefs, class, caste, religion, gender, whatever.
My last contact with Shyamlal was a few years ago when he told me he had married Prashanthi, and that they were both looking to get jobs to work for human rights for the UN. I was very proud of him and wished him well.
The genocide in Rwanda in 1994, in which more than 800,000 were murdered because of their ethnicity, was a disgrace to the modern world. I salute Shyamlal Rajapaksa, my friend of over 30 years, for working in the International Criminal Tribunal for Rwanda to bring the evil perpetrators to justice and bring some decency to mankind.
I offer my deepest condolences to Shyamlal's widow Prashanthi, mother Lalitha, and sister Nirupama.
Shyamlal was a man in a billion, a brave and courageous person who lived to make this world a better place.
I will miss him.
Detmar Blow