The Academy of Design was founded in year 2000 with the vision of offering undergraduate education in design and promoting design as both a serious education discipline and a dynamic profession in Sri Lanka.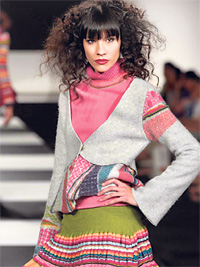 Today, the Academy is pleased to announce yet another milestone in its celebrated journey of design education with the launch of Sri Lanka's first UK degree programmes in Design in collaboration with Northumbria University, School of Design. With this collaboration students who wish to pursue a Higher Education in fields of Fashion Design, Interior Design or Graphics Design and obtain a BA (Hons) Degree can now complete their entire education in Sri Lanka without the need to go overseas.
Until now, the only pathway for students wishing to obtain a Degree in Design was to go overseas to UK, USA, Australia or Singapore in order to complete their higher studies.
This is a costly option and not everyone is able to afford paying international tuition fees in addition to the cost associated with travelling and living abroad. With the Northumbria Degree Programme being offered in Sri Lanka, students can obtain an International BA (Hons) Degree at approximately one fifth the cost of studying abroad, thus making the programme extremely affordable to Sri Lanka.
Northumbria University Partnership
The BA (Hons) Degree in Design at AOD, will enable students at AOD to receive the same degree from Northumbria University that a UK student would receive enabling these students to apply to any job opportunity around the globe.
Students who graduate from AOD with the Degree can also go on to complete their Master's Degree at Northumbria University over a 1 year period. Northumbria University's School of Design is the partner university offering these first BA (Hons) Fashion, BA (Hons) Interior Design and BA (Hons) Graphic Design degrees in Sri Lanka. The Northumbria University, School of Design is internationally recognised as a centre of excellence in design practice learning and research and has an enviable reputation for producing innovative and highly creative designers who go on to make directional contributions within the international design and business arena.
The university degree programmes are designed to meet the changing needs of industry, delivering relevant cutting edge skills and employing strategic design thinking in response to new developments and emerging business opportunities.
Teaching Faculty
AOD has a multicultural, international faculty consisting of educationalists, industry professionals and personalities all of whom pose academic and professional credentials from some of the most sought after international establishments in Design. The experience and the exposure that the faculty is able to share with the student, enables our students to be exposed to the latest cutting edge trends and ideas in Design and this broadens their minds and widens their perspectives.
New State-of-the-Art Facilities
In order to further enhance the student's learning experience, AOD has just opened a new 17,000sq/ft city campus facility. Situated at the corner of Laurie's Road and Duplication Road in Bambalapitiya, Colombo 4, this new facility consists 8 large studios, 2 each for Fashion Design, Interior Design and Graphics Design as well as one studio each for Jewellery Design and the Design Foundation Programme, in addition to 5 spacious classrooms and a 100 seat Auditorium. Facilities such as the Digital Design studio, Computer Lab, Art and Design library and specialist studios such as the sewing lab have been further enhanced to the most current specifications. Student social spaces such as the student lounge facility, has been enhanced enabling students to interact better on their project and assignment work.
The entire AOD facility is a Wi-Fi zone enabling students to share files, access online resources and work on their project using their personal laptops in addition to the AOD computer facilities.
Virtual Learning Environment (VLE)
Students at AOD have access to AOD's virtual learning environment (VLE) which is based on MOODLE an advanced dynamic learning system used by universities around the world. In addition to the AOD system, degree students would be linked to Northumbria University VLE thus enabling a truly enriched learning experience. Students are able to interact on-line with their lecturers and fellow students, have access to their assignments, project briefs, handouts and class discussions. In addition it enables them to have online discussions, share information and resources relating to their lectures or projects, discuss ideas as well as have access to online and off line reference material related to the lecture of their programme of study.
Enrolments for the degree programme are currently in progress. The Programme commences in September 2009.
For further information contact:
The Academy of Design (Entrance from Duplication Road)
No 29
Lauries Road
Colombo - 04
Sri Lanka
Tel: 5742480, 5742490, 5867772-3, 5731930
www.aod.lk