Management Systems Company was established in the year 1999 by founder and Managing Director Mr. P.K Suhanthan a past student and lecturer in UK with 15 years experience in the university education field. Educated in UK he holds an MSC in Information Management from the University of East London and formed the KMS for the purpose of encouraging and guiding students to fulfil their educational ambitions by receiving quality education in Institutions and Universities with established international recognition. At present KMS is a pioneer education consultant in Sri Lanka for University Placements in UK.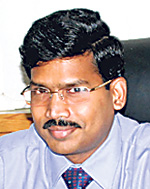 P.K Suhanthan
KMS has operations in Colombo, Chennai and London engaged in overseas education consultancy and student migration services. For more than 10 years the company has helped its patrons find University Placements in UK attuned to their higher education needs and have developed a reputation over the years as a reliable and trustworthy choice having met the highest standards in the profession. During the course of 5 years over 550 students have benefited from our services and gone onto study in UK.
Our strength lies in our commitment to finding effective sound solutions for our students.
Student satisfaction remains our foremost priority. Because of this commitment we continue to consistently expand and provide even more integrated consulting services. Our success is built on the service provided by an exceptional and highly qualified staff - one that is enthusiastic and dedicated to listening to its students and responding to their specific needs. We have professional counselling personnel who are trained in UK to advice and guide students when selecting appropriate courses and educational Institutions tailored to their specific needs.
KMS offers students a time-tested and cost effective process that enables a quick admission and a smooth immigration process. Our expertise extends to guiding students through every step of the admission process: from the choice of universities, to applying with discretion and guiding them through the immigration procedure. All of our services to students are absolutely free of charge.
" Counselling students on selecting a suitable course and institution that suits their academic background and qualifications.
" Complete assistance in application procedures to obtain admission to universities.
" We assist in finding accommodation, part time jobs and provide extensive information about life in UK.
" Comprehensive visa counselling on application procedures and document
requirements in obtaining a student visa to UK.
" Post departure follow up - confirming arrival and airport pick up arrangements.
Our partner universities and colleges are
London School of Business and Management
Anglia Ruskin University
Cambridge Ruskin International College (CRIC)
The University of Salford
Swansea University
University of Teesside
Middlesex University
CECOS London College
Our latest endeavour is British College of Business Studies, a higher education institution located at No 298B, Duplication Road, Colombo-03. BCBS is affiliated with the London School of Business & Management and will offer students who are O/L qualified a 6 month foundation course and 1 year diploma programme route to qualify for direct entry to university degree programmes along with English tuition in order to ensure students obtain proficiency in English to enter UK and receive maximum benefit during their stay there .
Knowledge Management Systems, 329, Galle Road, Mewella Building, 1stfloor, Southern Wing, Colombo -04. Telephone +94 11255243