A commemorative two hundred rupee, frosted proof silver coin was issued by the Central Bank (CBSL) last week, on August 25 to mark the Bicentennial of the Sri Lanka Customs Department. It is the same size of a Rs 2 coin and has 11.9 grams sterling Silverworth currently about Rs 650/-. The face value was probably selected because of 200th Anniversary.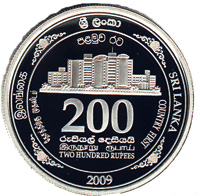 In terms of section 52 A (1) (a) and (b) of the Monetary Law Act (Amendment) No.6 of 1998, with the approval of the Minister of Finance, the Central Bank issues commemorative coins and notes, and sells such coins at a price higher than the specified denomination.
After releasing a 'Notice to the Public' on its website on Friday 21st, CBSL put few large advertisements in the Sunday newspapers stating that a limited issue of 3,000 coins will be issued into circulation and a coin will be sold at a price of Rs. 3000. What CBSL did not say in that advertisement was that most of the issue (2750 I am told) was taken by the Customs Department which requested the coins, and not available to the general public.
When I phoned the CBSL I was told that the coins will be issued after 11 am. I got to the CBSL cash counter sharp at 11 AM and was 2nd in the queue. Another collector had come early. By about 11:15 AM when they started issuing the coin a long queue formed and the 50 coins released that day was over in under half hour, although they sold only one coin to each customer. I understand from a collector friend who went on the next day that only six coins were issued on the 26th, and he was 10th in line and was very disappointed not to get one. There had been quite a uproar when one person had jumped the queue and got one.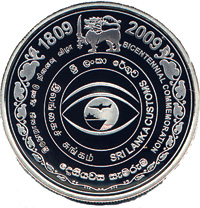 It is a pity that the CBSL has created an artificial scarcity of this coin, and have not minted sufficient to meet the coin collector demand of the public both locally and internationally. However this current issue is slightly better than the last when CBSL minted just 100 Frosted Proof coins for the Employment Provident Fund and did not make any of them available to the Public. It is now one of the few modern Lankan coins I don't have in my Coin Collection.
The action of CBSL only aid the coin dealers in Fort. For example the one rupee Air Force coins of which only 2000 were minted and 800 released to the public in 2001 March at Rs 600 was sold out in under one month, and I have heard of a rumour of a hoard of them by an investor. They are now sold by dealers for over Rs 15,000 if available.
The Central Bank has issued commemorative coins to mark various important events since 1957. This is the 37th commemorative coin for the 26th event with all of the nine commemorative coins issued in the first 40 years circulated as currency. After the 40h anniversary of CBSL issue in 1990, CBSL has issued 16 commemorative coins, like this issue, which are known as NCLT (Non circulating Legal Tender), exclusive for the collector market. The CBSL got Monetary Board permission in 1990 to sell them above face value to cover the extra cost of minting a limited number of coins. Frosted Proof coins are of the highest quality and to maintain the Numismatic value it should not be taken out of the protective capsule and touched by hand.
About a year ago CBSL started a website to sell these coins on-line. The sale price of the coins were increased to match the international catalog prices which were high only because it was so difficult for foreign buyers to get these coins from Sri Lanka. However I know that even this new website does not meet the requirements of Foreign Collectors. I was told by one of the largest collectors of world coins that CBSL declined to send him his requirement of Sri Lankan coins.
In 1982 CBSL created a list of Coin Collectors, and this list was revised in 1994. I hope that CBSL will consider creating a new list of coin collectors who are interested in placing a standing order for all new coin and currency issues both regular and commemorative. CBSL should ensure that sufficient commemorative coins are minted to meet that demand, over that requested by the institution commemorating the event. This will ensure that excess stock does not remain at CBSL. Interested coin collectors on the list can be informed by Mail or E-mail which will cost far less than the large newspaper advertisements. The few newspaper adverts would have cost far more than the total sale price of the 56 coins of this issue, made available to the public so far.
I estimate the coin collector demand for high value Sri Lankan commemorative coins to be about 1000 coins. When more coins have been issued to the public they have remained for sale for a long time, sufficient for those who wish to have one for their collection to buy one. CBSL still has stock of the 1990 issue. The prices of the 2550 Buddha Jayanthi issue was set so high in 2006, that CBSL has had to now lower the price by 25% to try and sell the excess stock. The 2008 Rs1000 EPF uncirculated coin is still available although only 1200 was minted and sold at Rs 1200 each.
It is only when CBSL decides to release very limited quantities of less than 1000 coins to the public that there is demand larger than supply and create disappointment among collectors. It is clearly no way to encourage new collectors to the Hobby of Numismatics.
(The writer maintains an educational website on two thousand years of Lankan coins at http://lakdiva.org/coins/, and is a life member of the Sri Lanka Numismatic Society).