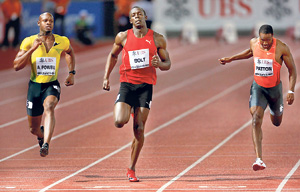 Usain Bolt of Jamaica (C) crosses the finish line next to compatriot Asafa Powell (L) and Darvis Patton of the U.S. during the men's 100 metres race at the IAAF Golden League athletics meeting at the Letzigrund stadium in Zurich August 28, 2009. REUTERS
Olympic and world champion Usain Bolt won the 100 metres with a late surge at the Weltklasse Golden League meeting on Friday while Russian Yelena Isinbayeva broke her own world record in the women's pole vault.
Bolt, who was paraded around the Letzigrund stadium in a rickshaw before the meeting, was slow out of the blocks and trailed fellow Jamaican Asafa Powell with about 20 metres left.
But the irrepressible Bolt, who last week smashed the world record in astonishing style with a time of 9.58 seconds at the world championships in Berlin, found an extra burst of speed to win in 9.81.
Isinbayeva atoned for her Berlin flop by clearing 5.06 metres to beat her previous record set at last year's Beijing Olympics by one centimetre.
Ethiopia's Kenenisa Bekele, world and Olympic champion at 5,000 and 10,000 metres, comfortably won over the shorter distance in 12 minutes 52.32.
Bolt, the world and Olympic champion over 100 and 200 metres and world record holder in both sprints, finished the evening by producing an electrifying last leg as Jamaica won the 4x100 relay to beat the U.S. by three hundredths of a second.
"I would say this was a shaky race," Bolt said after the 100. "My body was sitting at the start, I was a little bit tired through the race.
"At the end, I needed to pick up my speed as my body did not respond well to the race." Powell, third at the worlds, said: "This race gives me a lot of assurance that I can win races. I just need to work on the last part of the race.
"Now I know that I can beat Usain when everything works fine for me."
Useful experience
Isinbayeva, winner of the previous two world championship and Olympic Games titles, was still smarting from her failure in Berlin where she failed to clear the bar and left the field in tears.Entering Friday's contest at 4.71 metres, Isinbayeva easily got over at her first attempt and also had no trouble with her next vault at 4.81.
The 27-year-old won the competition when Poland's world champion Anna Rogowska failed at 4.86, then sent the stadium into uproar by clearing 5.06, again at the first attempt, to break the outdoor record for the 15th time.
"In Berlin, I only had three jumps, so I felt fresh tonight. This is unbelievable, crazy," she said.
"I realised afterwards that it's important to win the contest first and then think about the world record. In that way, it (Berlin) was really useful for me."
Several athletes celebrated their wins at the world championships in style.
Lashawn Merritt, also the Olympic champion, won the 400 metres in 44.21, once again pushing his rival and fellow American Jeremy Wariner into second place. The pair came into the back straight neck and neck but
Merritt powered away to notch another win.
Sanya Richards won the women's 400 in a season's best 48.94 seconds, six hundredths better than her winning time in Berlin, ahead of fellow American Allyson Felix in second place.
Blanka Vlasic of Croatia won the women's high jump with 2.01 metres, three centimetres short of her winning leap in Berlin. Kenya's Ezekiel Kemboi won the men's 3,000 steeplechase in
8:04.44, where Olympic champion and compatriot Brimin Kipruto finished back in eighth place.
Another world champion, Ryan Brathwaite of Barbados, finished third in the 110 metres hurdles.
Jamaica's Dwight Thomas won in 13.16, ducking over the line to pip Terrence Trammell of the U.S. by a hundredth of a second.