Shiran is a second-year Engineering student at the University of Cincinnati (UC) in Cincinnati, Ohio, USA. Originally from Colombo, Shiran studied at Royal College through O-Levels and then completed his A-Levels at Asian International School (AIS), where he was the top student of the graduating class of 2008. Working with Priyanthi Dissanayake, one of UC's top official representatives in Sri Lanka (www.scholarshipsforusa.com) Shiran was accepted into UC's Engineering program. He was also awarded the prestigious UC Global Scholarship, which is available exclusively for international undergraduate students at the University of Cincinnati.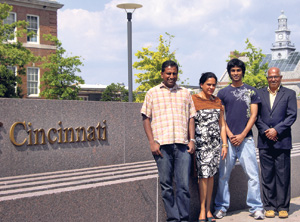 Visiting UC's Lankan representatives Priyanthi & Dissa at University of Cincinnati early summer of 2009 with Shiran & Dr. Ana Gowribalan of the Mathematics & Physics Department.
Shiran applied to the University of Cincinnati for Winter '09 without applying to Australian Universities as he believed American Universities offered far better opportunities than Australian Universities did. Unlike many universities in US, the University of Cincinnati offered Shiran the option of starting his studies in January. Applying to American Universities often requires extensive planning.
However, the University of Cincinnati's new A-Level Admissions program eliminates most of that work. Many students are able to gain admission simply with A-Level scores and will still be eligible for the UC Global scholarship. UC is one of the only universities in the United States with such a program. In addition to admission, students are also able to use A-Levels scores to receive academic credit.
This allowed Shiran to start in January at the University of Cincinnati taking the same courses as those students who started in September. During his time in the United States, Shiran has adjusted well to American culture. Not only is he very successful in his engineering classes, but he is also active outside of the classroom. Shiran and several other Sri Lankan students are forming the Sri Lankan Student Organization at UC and plan to have it up and running by this school year.
This undoubtedly will be a great asset to new Sri Lankan students arriving at UC. Shiran also works part-time with the UC International Admissions Office, helping with special projects and the day-to-day activities of the office. He also helps answer questions from prospective Lankan students.
Shiran was attracted to UC for many reasons. It offered flexible start dates, generous scholarship support, a dynamic campus, and a supportive city and community. However, Shiran's main attraction to UC was its famous Cooperative Education (co-op) program. UC invented the co-op style of education in 1906 and has been perfecting it ever since. In fact, US News & World Report ranks UC's co-op program in the top five in the US. Through co-op, Shiran will find a job at a company in the US, working in his field of study. He will alternate between 10 weeks of work and 10 weeks of study, giving him paid, real-world experience as an undergraduate student. This unique opportunity will make Shiran more attractive to future employers and make his education even more affordable. He is very excited about starting co-op this spring.
The University of Cincinnati is still accepting applications for the January intake. Complete details are available at www.admissions.uc.edu/ucexpress.