Continuing with the series of evening presentations on the topic "The Way Forward..", The Management Club will have the privilege of Dr Uditha Liyanage, Director PostGraduate Institute of Management addressing them at their next meeting at Galle Face Hotel on Thursday September 3.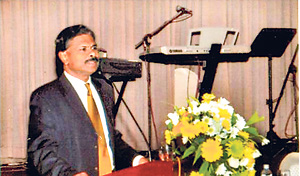 Dr Uditha Liyanage's presentation to members of the Management Club and their guests is interestingly titled "Tough Times? Be brilliant on the basics…" and is bound to impart a lot of valuable insights for personal development to face many challenges in the context of the current global economic crisis.
The Way Forward series of meetings of TMC has throughout been a success story, providing an excellent opportunity for TMC's members and their guests to interact and network with personnel from different industries. Mr. Rienzie Wijetillake, Mr M V Mushin, Dr Hans Wijayasuriya, Mr Rohantha Athukorale and with Dr Harsha de Silva, Mr Rajan Brito Ms Marina Tharmaratnam forming a panel for a discussion on the Global Economic Crisis, Hon Dr Sarath Amunugama, Deshamanya Bradman Weerakoon, Mr W K H Wegapitiya and Mr Hilmy Cader were some of the speakers who addressed TMC gatherings in the past.
The next event to be held at Galle Face Hotel on September 3 will give them the rare opportunity of learning many key points from a very eminent personality who needs no introduction about his capabilities in capturing the hearts of any audience that he addresses.
TMC invites all their members to make use of this opportunity by making early reservations (Tel - 5860000 - Mr Aniff or call/SMS Sumendra on 0777 331336).