Australia's fall from grace was witnessed last week when England beat them comprehensively in the 5th and final Test. Andrew Strauss and his men thus won the Ashes two matches to one! This defeat meant that Australia's dominance in world cricket appears to be coming to an end or almost over.
They are down in both rankings i.e. the Test and ODI' which merely confirms this statement. Dwelling a bit further on the Ashes, it is obviously the oldest battle and a series definitely much looked forward to by many cricket lovers.
Whilst the Ashes in the last decade barring the 2005 battle has been, sadly one sided with the Australians overwhelming their English counterparts. This lop sided battles to a large extent had taken the gloss off the Ashes with every series being a forgone conclusion! However the 2009 Ashes were definitely different! To me it was a tight battle between two average sides.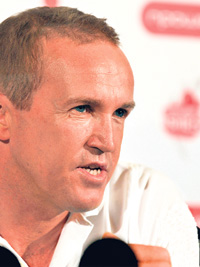 England cricket coach Andy Flower attends a press conference in central London, on August 24, 2009. Queen Elizabeth II on Monday congratulated the England cricket team on their Ashes victory over Australia, praising both sides for the performances in the five-Test series, a spokesman said. Queen Elizabeth, 83, is head of state of both Britain and Australia. AFP PHOTO/Carl de Souza
It was made to look even worse when Kevin Pieterson pulled out and Andrew Flintoff struggled for full fitness as they were by far the only Two Match winners from either side. May be the likes of Ricky Ponting and Michael Clarke and a fit Brett Lee would beg to differ, but that too for me was the reality in the series. However come what may the fact of the matter was that the Ashes were contested by two largely average teams without the real stars!
Whilst Australia lacked the muscle in their batting I thought the English bowling didn't look anything to be rather excited either. Look at the players who topped the bowling for England and you wouldn't see any names that will give quality batsmen any sleepless nights. To start with Stuart Broad looked good in patches but whether he can command the same respect outside England will be something to look forward to. Then Graham Onions who was hailed as the find of the English pace attack in the last series withered away very quickly during the series.
The next bowler to create some panic was Swann the Off Spinner who again may not be a major force to be talking about! With Flintoff's retirement England are bound to struggle to discover another genuine quick bowler as Harmison appeared to be past his best with only Jimmy Anderson looking anything like a Test Bowler.
On the same score Australia could at least boast of Mitchell Johnson! A good enough left arm fast bowler and a more than useful batsman, but what about the rest of the quicks? Brett Lee appears to be struggling with injury and both Hilfenhaus and Siddle were far too inconsistent. Stuart Clark however will be a good 3rd seamer and will keep things under control. And then there is nobody else to talk of! The spin department too was woefully short of class which proves that the so called invincibility of the Aussies is more a myth now than anything else.
With this rather dismal performance of Australia it has opened a new opportunity for Sri Lanka to get to its highest ranked position which is no.2 in the Test Cricket world. A great achievement by any stretch of imagination! It reminds me of the goal set by the then President of the BCCSL Mr. Ana Punchihewa who in his master plan was looking to make Sri Lanka the no.1 team in the world. True he enjoyed Sri Lanka's World Cup success in 1996 as the President but was not able to continue in the President's Chair to see his dream come true. However it will be pleasing for the likes of Punchihewa who initially mooted this thought to witness Sri Lanka's advancement in the cricketing ladder to the 2nd slot nine years after the set deadline.
If the climb to 2nd place was tough I am sure being there and trying to climb the highest step will be tougher! It was interesting to note that skipper Sangakkara felt that if Sri Lanka kept playing sensible cricket the rankings will look after itself. I think it will be the most sensible way to set about things. Take it one at a time. Sri Lanka has overcome Pakistan and has almost done it with the Kiwis. It will now be the Champions Trophy. True it has nothing to do with Test rankings but a winning habit is a good feeling and should be continued with as long as possible.

Roshan Abeysinghe is a leading cricket promoter and an international cricket commentator