Ten to fifteen persons are bitten daily by stray dogs in Trincomalee town and its suburbs and are admitted to the hospital. More than 10,000 stray dogs roam the Trincomalee town, according to a rough estimate compiled by health workers.
These startling figures were given to the Provincial Health Minister M.L.A.M.Hisbullah, Provincial Health Services Director Dr.M.Thevarajan, Trincomalee general hospital Medical Superintendent Dr. A.I.Jagoda and several senior health officials at the opening of the newly established Emergency Treatment Unit at the hospital last Monday.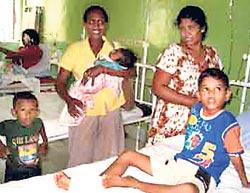 Two children warded after being bitten by stray dogs are seen with their parents on the opening day of the Emergency Treatment Unit of Trinco general hospital
Minister Hisbullah then suggested to the health officials that the authorities should immediately put up cages in a plot of around five acres of land to house all the stray dogs.
Killing stray dogs or sterilizing them would not bring an immediate solution to the problem. It was best to catch all stray dogs and put them in cages specially constructed and feed them with food left over daily from hospitals and hotels. Such a project was being currently implemented in Ampara town, he said.
He said that last year Rs. 1.7 million had been spent for anti-rabies treatment in Ampara. During the first six months of this year Rs. 2.7 million had been spent for the same purpose there. Nearly Rs. 4,000 was needed for vaccines to treat a person bitten by a stray dog, he said.