A quest for independence and a search for success turned this couple's dream into reality. Today, Pearl and Paul Palihawardena are the proud franchisees of the only Hilton Hotel's chain of budget hotels in Europe.
A popular concept in the USA, the Hampton by Hilton is an economy hotel franchise with an upper mid-scale finish which offers quality and comfort focused on great service and a unique guest experience.
According to Paul, after negotiations with the Hilton Group of Hotels an agreement was signed to construct and manage up to 20 budget brand hotels in the UK within eight years. "We were interested and they were impressed," says Paul when he approached the hotel chain about the franchise. "We trust Hilton and were willing to put our time and money into this opportunity and they placed their trust in our work experience."

The Hampton by Hilton in Corby and below, Pearl and Paul with their daughters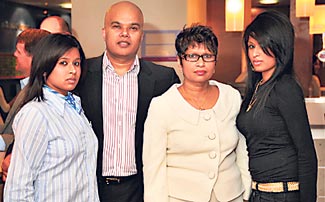 In March 2009, Paul and Pearl opened their first Hampton by Hilton in Corby/Kettering. Just 90 minutes by train from London, the Hampton by Hilton Corby/Kettering is located in the heart of a rapidly developing community. Their first hotel comprises 88 rooms, three conference halls, and a gymnasium with all the comforts of the signature value-wise service and quality bundled amenities.
Paul says, "We carefully balance the vision of our progressive development with a deep respect of our past, and a visit to the Hampton by Hilton Corby / Kettering wouldn't be complete without a tour of the quaint historic towns and stately castles that tell the story of the town's rich history."
Meanwhile, Paul and Pearl have already zoomed in on their next location at Luton, Coventry. They aim to start building soon as they have to adhere to their agreement of completing 20 hotels within the next eight years.
Apart from this hotel, Pearl and Paul also own and manage the Park Inn Doncaster, a franchise of the Rezidor Hotel Group, which is one of the world's fastest growing hotel companies with over 380 hotels and 81,000 rooms in almost 60 countries in Europe, Middle East and Africa. The Park Inn Doncaster is the 35th hotel in the Rezidor chain in UK.
The Park Inn Doncaster is located in a popular business park and features 87 rooms equipped with walk-in showers, WiFi, air conditioning, and flat screen television. Further services of the hotel include a café, lobby bar, and meeting room.
Having lived in Europe for the past 30 years, Paul and Pearl began their journey as a franchise holder for Jan-King, a world renowned commercial cleaning franchise company. Jani-King contracts commercial cleaning services with the work being performed by franchise owners who operate their own businesses. The couple's own venture is called Hotel Solutions London Ltd which specializes in housekeeping, event catering, hotel uniforms and support and staffing for all hotel catering and restaurant needs.
Together Paul and Pearl have a staff of almost 1000 employees working for them. Their list of clients includes Days Hotel, Park Inn Group (nominated Housekeeping supplier for the UK), Holiday Inn, Forestdale Group, Sheraton Hotels, Best Western, and Express by Holiday Inn.
Here on holiday, Paul and Pearl and their two daughters are enjoying the sun, sand and sea. Despite their long sojourn overseas, they still maintain strong family ties. But for these two- ex-Thomian and Hillwoodian, the hard work is all worth their while as they look forward to building further on their dreams.