Test captain Ricky Ponting and the four national selectors might be in the spotlight after another Ashes failure, but Simon Katich yesterday argued neither were to blame - the players had let them down.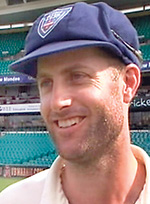 Simon Katich
Speaking at a Bradman Foundation lunch to celebrate the 101st anniversary of the Don's birthday, Katich said the players had finished the series bitterly disappointed to have lost, suggesting there would be many years of regrets to come at having let themselves down. For Katich the regrets are doubled by the sour memories of 2005.
''We probably let him [Ponting] down,'' he said. ''We all had opportunities to help him get the right result and we didn't do that.
''I guess having been involved in 2005 I thought I'd let him and the team down then, and this time around - even though the tour went a bit better - I still feel there were things that I could have done to better to have helped us win Test matches and unfortunately I'm going to live to regret that.''
Opening the innings, Katich scored 122 in the first Test on his way to 341 runs in the series. ''I was disappointed I didn't convert a lot more of my starts. I felt like I was in pretty good form and, after the 100 [at Cardiff] missed out on opportunities to convert more 40s and 50s into hundreds,'' he said.
The Age.