BOSTON, Aug. 28 (Reuters) - Top Democrats and Republicans united on Friday to pay tribute to Sen. Edward Kennedy, the powerful liberal from America's pre-eminent political dynasty whose death has been treated like the passing of royalty.
Dignitaries from both sides of the political aisle and overseas attended an invitation-only memorial service at the John F. Kennedy Library and Museum after a public viewing that drew more than 30,000 mourners -- so many that security had to turn people away.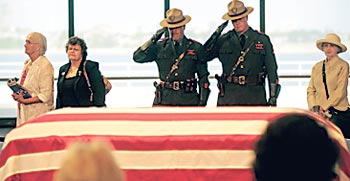 People pay their last respects to Edward Kennedy at the John F. Kennedy Presidential Library and Museum.
Kennedy's flag-draped coffin was displayed before picture windows showing sweeping views of Boston Harbor.
"We disagreed on most issues. But I admired his passion for his convictions, his patience with the hard and sometimes dull work of legislating, and his uncanny sense for when differences could be bridged," Senator John McCain, the Republican who lost the 2008 presidential election to Barack Obama, told the gathering.
Kennedy, a Democratic senator from Massachusetts for 47 years, died late Tuesday of brain cancer at age 77 after a remarkable career championing causes from civil rights, immigration and healthcare to the end of apartheid in South Africa, opposition to the war in Iraq and peace in Ireland.
His place in the Kennedy dynasty -- brother John was the last president slain in office and another brother Robert was gunned down while campaigning for the White House -- enhanced his stature as one of Washington's most powerful politicians.
"Nearly every important law passed in the last half century bears his mark," Democratic Senator Chris Dodd told the gathering, which was alternately rapt and relaxed during the service.
The speeches included funny stories and occasional references to politics -- notably the ongoing debate over healthcare -- but also sad moments of remembrance."I can say that Senator Kennedy was the most thoughtful, genuinely considerate human being I have never known," said a choked up Paul Kirk, a longtime friend and aide who is chairman of the Kennedy library. The audience broke into applause.
Among those in attendance were Vice President Joe Biden,
California Governor Arnold Schwarzenegger, civil rights leader Jesse Jackson and the Northern Irish republican politicians Gerry Adams, the president of Sinn Fein, and Deputy First Minister Martin McGuinness.