Sri Lanka ended day four of the second test at the SSC on the brink of a test and series win. The Kiwis require 312 more runs to win with but four wickets remaining and only torrential rain and hail-stones can stop the home team's victory march. Herath was the Skipper's first choice spinner. This may be due to the record holder Muralitharan's aversion to bowling with a newish ball. However, Herath flighted the ball well and bowled accurately to systematically remove four batsman. He will never even remedy approach the exploits of Muralitharan. Yet he did enough to show that there could be life for Sri Lankan Cricket after Muralitharan's proclaimed sell-by date.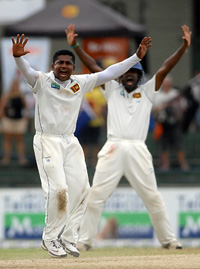 The Kiwi tomenter Rangana Herath in action. Pic by Sanka Vidanagama
Earlier in the day, Sri Lanka's dreaded pair of Sangakkara and Jayawardena put on 173 for the third wicket to point the way towards prosperity. In a silly move, Paranavithana opened bowling even as Dilshan did in the first innings. Once normal service was resumed, the wickets began to fall.
Some batsman, notably, McCullum, tried to lift and bang and paid a heavy price. Flynn was quite obdurate and showed temperament. Ryder survived two chances and always lived dangerously during his 102 minute stay. The visitors never had a big partnership going (as at Galle) and thus were never able to throw some pressure back at the Sri Lankans.
Restarting from the overnight 157-2, the skipper obviously had one eye on his twentieth hundred and the other on accelerating the scoring rate. It was Jayawardena, however, who set the tone for the opening session by lifting Patal over the bowler's head for six and by repeating the short off Vettori next over, this time for four.
Jayawardena played the shot of the morning; sumptuously cover driving Martin for four. The skipper matched his predecessor with a similar stroke off Ryder. Sangakkara perked up approaching his century with two cover driven fours off Ryder in one over to move to 97. He reached his century shortly after with a back foot forced through cover. His 201 minute, 164 ball hundred included eleven fours and a six. This one was his third against New Zealand, sixth at the SSC and 13th at home.
He celebrated with a cracking straight drive for four. Bowler O'Brien jumped out of the way to avoid permanent damage. At 109, he moved to leg and slashed at a Patel delivery, only to nick it to Taylor. Thus ended a wonderful 173 stand for the third wicket between Sri Lanka's two most accomplished batsmen.
Samaraweera presently enjoying the time of his life, replaced his skipper and came up with a brisk 25 in 42 balls. He added 39 in tandem with Jayawardena. The Latter's 35th half Century took 71 balls and had two fours and a six.
Having got to the late eighties, Jayawardena's progress thereafter was ponderous. He eked out six singles in half on hour after lunch, before pushing forward to O'Brien and touching one to Taylor at slip. The catch was expertly pouched by the fielder who moments earlier had given Kapugedera a reprieve off Vettori. If his disappointment at missing a century for the second time in the match was palpable, his wife's reaction was one of deep anguish. One felt that a hundred was his for the taking had he employed his usual free-flowing stroke-play and unaccountably, not gone into a shell. The declaration came with his dismissal and the Kiwis had a mountain to climb were they to reach the target of 464.
Vettori bowled a reasonably tight line to take two wickets, while Patel was similarly productive but at far greater cost. Thirty six had been added, mostly by Guptill, when Prasad made the break-through. McIntosh offered no shot to a ball that came in sharply and pegged back his off stump. Guptill batted with authority and assurance, driving for fours in front of the wicket, and also punching well and powerfully through mid wicket.
Herath was summoned to the attack and he struck with his first delivery. Guptill played at a delivery he could have left alone, bat years away from his front pad, and nicked to the keeper. Taylor played well and it seemed he had decided to attack Herath. He lofted the latter over mid off and mid wicket for boundaries. Shortly after, he was undone by a flighted leg break that turned quite a bit. Bat in advance of his pad, he feathered a touch to the sole slip.
Flynn applied himself assiduously and made a fighting fifty. He enjoyed a slice of luck when a bat pad chance off Herath flew wide of Kapugedera at short leg. He played the cut well, in addition to punching sweetly off the back foot. Having just reached a 93 ball half century, he was on the back foot to a Herath leg break that caught him in front.