GALEWELA: A student who was cycling to Ibbagamuwa carrying a bag of paddy to the grinding mill was fatally injured when his bicycle was hit by a bus from Batticaloa proceeding to Colombo.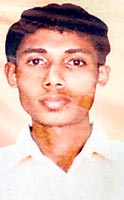 Asoka
He was rushed to the Kurunegala hospital where he had succumbed to his injuries. He was identified as Muminda (19), a pupil in the Advanced Level class of St. Anne's College, Kurunegala.
He was the eldest in the family and is said to have bought his bicycle from the money he made by repairing radios and TVs in his area.
A grieving mother said her son was dreaming of seeking admission to the German Technical Training Institute, as he was mechanically inclined, she said.
The driver of the bus was taken to custody and produced before the Kurunegala Chief Magistrate by the Gokarella Police who are continuing investigations.