Micro Cars Ltd has entered a new era in manufacturing container carriers for heavy long haulage and tractors specially to cater to the needs of the North and East. The company last week commissioned a new facility at its Polgahawela factory complex for the purpose to manufacture Prime Movers (Container Carriers) for the two regions where large volumes of goods are required for transport, which otherwise is transported by sea.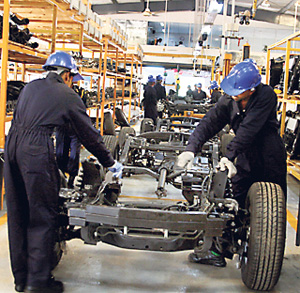 At its new complex
Chairman of the company Dr. Lawrence Perera told the Sunday Times FT that manufacturing commercial vehicles in Sri Lanka will have many benefits to the national economy such as saving of valuable foreign exchange such as overheads, salaries and wages, and profits that would be paid to overseas suppliers, in the event these vehicles are imported in completely built form.
A tractor production line is made available with the technical co-operation by International Tractors Ltd. a company of the Sonalika Group of India branded as 'Sonalika marketed by Micro Agri', to meet the increased demand of agriculture tractors and implements due to the vast expansion of new land in the North and East, he said.
All vehicles assembled in Sri Lanka are with over 35% local value addition. This includes manufacturing components locally. This gives an opportunity to local manufacturers to supply some parts to vehicles manufactured in Sri Lanka , while an opportunity is made available to the youth to be a part of this exercise. Dr. Perera disclosed that Micro Cars Ltd also designed a modern rail solution named "Lanka Econo Rail" to be manufactured in Sri Lanka with technical assistance from Germany as a modern and economical solution to resolve the mass transportation problems.
Micro Cars Ltd with the capacity to manufacture 300 cars per annum, has already sold 1300 cars in 2008 while this year sales have been slow due to recession and other economic factors. Around 700 vehicles were sold up to August this year, he said .