Unexpected growth opportunities for the tourism industry have arisen after the conclusion of the war with serious investors expressing interest in developing properties.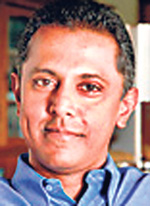 Hiran Cooray
Chairman of Jetwing Sri Lanka Hiran Cooray told the Sunday Times FT that having alrady expanded outside the island to places such as Vietnam through Jetwing Indochina and even Bangladesh, the company is refocusing on developing in several areas across the island. With the opening up of the East coast for construction and new projects in the pipeline, Mr. Cooray said time management has become an issue between running the overseas properties and focusing on expanding in Sri Lanka.
Jetwing's plans include the construction of a new resort in Yala after the previous hotel was destroyed in the 2004 tsunami. The Blue Oceanic Hotel in Negombo will be refurbished and given a fresh look. Mr. Cooray said Jetwing will also embark on new developments in the Pasikudah area and another with Hayleys in Nilaveli. He expects tourist arrivals to continue to rise, as has been the trend over the past few months. In fact, he said his expectations for a good winter season have been reinforced by the fact that rooms were all booked for the month of August.
Despite the expected resurgence of the industry and an influx of foreigners, Mr. Cooray said he hopes the focus on local tourists will continue. However, he said no tourist hotel can survive on the local market alone. With the increase in the number of tourists from India and in particular the Middle East, Jetwing is learning about different cultural and behavioural patterns in order to help them to cater to a varied group of travelers.
Mr. Cooray also said there have been increasing numbers of visitors from the Far East, particularly from countries such as Thailand, Singapore and Malaysia, a trend which he described as being very healthy. Visitors from traditional markets in Europe will continue to increase as well but the diversity in the types of tourists will provide a healthy balance for the industry. Whereas Europeans travel mostly during the winter season in December and January, Middle Eastern tourists travel from June until the beginning of Ramadan.
Prior to the end of hostilities, a lot of second strength staff had left Sri Lanka to go overseas, Mr. Cooray said. However, he is hopeful that some will return and contribute to the industry here. Some Sri Lankan architects and managers are currently working at the Indochina hotel in Hanoi in Vietnam.
Jetwing will manage two more properties in Vietnam over the next six to 12 months.