Boxing is considered by many to be a tough, blood-thirsty sport, where competitors square off against each other in a test of strength and skill to emerge victorious by mauling their opponents. Hardly the place to find a committed, loving couple who support and understand each other you would say, but look again. Herbert and Nieva Embuldeniya have a collective experience of over seventy years of officiating in this so called brutal sport and they insist that it has enriched their lives further.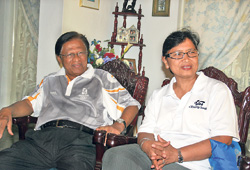 Herbert and Neiva 'The boxing couple'.
Herbert Embuldeniya is a proud product of Peradeniya University, where he was awarded his colours in boxing in 1952-53, after which he started getting involved in the sport as a coach and then as an official in three different countries, namely Sri Lanka, Pakistan and Canada. He started his coaching career in Sri Lanka and then went on to Karachi where he was a lecturer at Karachi Grammar School and was the sports master in charge of Boxing and Athletics. He then started to get involved in officiating and served as an executive at the Karachi Boxing Association. From there he shifted to Canada where he served as an executive at the Canadian Boxing Association and ended up as the President of the CBA.
His wife Neiva's involvement with the sport is as colourful as his, where she has been involved in the sport for over thirty years and taken part as an official in many prestigious events, the World Championships, Asian Championships and Commonwealth Games to name a few.
When questioned of how this love affair with boxing started Mrs. Embuldeniya said - "He was the president of the boxing association in Winnipeg, and he needed someone to help him with secretarial work and I volunteered and then I did a bit of officiating and then he suggested that I take up judging. And so I thought that this is something we can both participate in and since he would have to travel a lot because of the sport, it was a nice way to make sure that I get to spend more time with him. I always believed in the saying 'If you can't beat them join them', she added with a twinkle in her eye.
Herbert Embuldeniya went on to add that they are now called the boxing couple as they are the only husband and wife team who officiate in tournaments.
On speaking of the changes in the local boxing scene, he says, "Boxing in Sri Lanka has improved a lot and the style of boxing has changed from British traditional boxing which was the style at the beginning as most boxers in the past were British service personnel who were the first coaches of Sri Lankan boxing. Later on Cuba came up in the 1960's. Even up to now Cuba is probably the best country in Amateur Boxing. Cubans have a more forceful style of boxing compared to the British as they have a longer reach and so there is more power punching involved, now it has become a mixture of the two styles.
And on the fact of our boxers failing to reach the Olympics in the recent past he said, Sri Lankan boxers of the past like the Bulner brother's, Van Cuylanburgs, Jayasuriya brothers, Dharmasiri Weerakoon, did participate at the Olympics but they didn't win medals. They could participate in the games as there was no selection process back then, now they have qualifying competitions, so slots for thirty two boxers in each weight class are divided among the continents taking part. So it's more difficult to get to the Olympics from Sri Lanka now than the good old days.
He went on to say further, "The reason for us to come back from Canada was so that we could help out the Sri Lankan Boxing Federation if they need our help, and to open doors for local officials to participate in the AIBA and the International scenario. It doesn't matter if it's a local meet or international it's where we can work and help to develop boxing.
"We officiated in many local tournaments at Seevali, Horana, some Navy meets and in the jungle at Monkey Bridge for STF meets, my wife was the only female official there. We went for all the tournaments organized by the Armed Forces in an attempt to support them by helping in the Boxing ring".
When asked what he considered to be his greatest achievement he said: "It was in Canada when a boxer placed the medal that he had won around my neck," saying 'this medal was won through your effort' and refused to take it back, 'I even called his mother to ask her to convince her son to take the medal back', he says with a laugh. That medal holds a special place in my trophy room".
And Nieva says her biggest achievement was when she was elected as a Technical Delegate In Charge of the World Competition, as this post was always dominated by men, and the fact that she was part of the AIBA proposal to IOC to have women's boxing at the games, and it was accepted and Women's Boxing will be an event at the next Olympics. Nieva adds: "I feel that I have done my part for all the women boxers of the world".
So as we can see from these two fine stalwarts of the square ring, boxing like all sports builds people of great character. And they are living proof that the sport does not deserve the bad rap that it has been getting lately.