The management of Imperial College and Mobile@Net Services Centre Jaffna are proud to announce the establishment of their joint venture for CIMA tuition provision for students who wish to pursue this prestigious qualification in Jaffna. This agreement was formulated in order to ensure that students interested in undertaking CIMA receive the best tuition and course administration.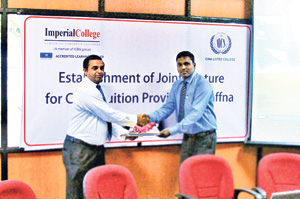 "It has become increasingly clear that an alliance of such nature is essential in order to meet the growing demands of education today" said Mr. S. Sivabaskaran, Director Operations of Imperial College. "The core of this establishment is a firm commitment to provide the lecturers with adequate training and study materials, in addition to administering course provision. By joining together we are convinced that we can provide the students with assured success."
"We are excited to enter this next phase of growth for our college. This distinctive partnership with Imperial College allows us to swiftly build on the strengths of our college and enable us to enhance the efficiency and delivery of our services to students in Jaffna. " commented Mr. S. Sivaskaran, Director of MCS. Further he stated that that they chose Imperial College as their partner in this venture because of their proven track record and long history of over 20 years in the provision of CIMA tuition.
Imperial college, the forefront institute in CIMA education has quickly established itself as one of the top providers of CIMA education in Sri Lanka. The college thrives on its focus on adequately preparing students on achieving first time exam success. Their belief lies in giving students more than just the basics, but instead mold them into employable candidates.
Speaking at the event, Mr. Bradley Emerson - CEO (Sri Lanka) & Regional Director for South Asia & Middle East - CIMA, said "Today the West world is moving towards an ageing population, however more than 50% of the South Asian population consists of individuals below the age of 18 and It is must to educate and groom these individuals to face the tough challenges of the competitive world. He also mentioned that CIMA is not a qualification which is a future for the children instead it prepares children for the future".
Also present at the event were, Mr. Vasaba Weerasinghe - Student Services Executive, CIMA Sri Lanka, Mr. S. Vithushan - Sales & PR Executive - CIMA Sri Lanka, Managers of leading commercial banks, Accountants, and staff of MCS.
This is yet another achievement for Imperial College and they stand true to their Motto of 'Nurturing Tomorrows Leaders'. This also demonstrates their commitment to educating the youth of Sri Lanka.