A six-member police team attached to Ambalangoda Police Station which allegedly assaulted a businessman for no apparent reason and thereafter took him to the police station leaving his sister stranded on the road, have been transferred out of the station, but residents are demanding tough action on the policemen.
Residents of the area took to the streets on Thursday with karapincha (curry leaf) branches in their hands as a mark of protest against the policemen. The businessman was carrying karapincha in his vehicle – a tipper truck - when he was stopped, but police had claimed he was carrying cannabis and allegedly beaten him up.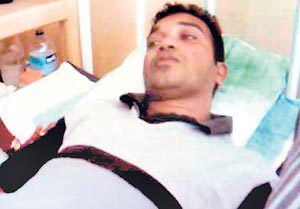 Anura in hospital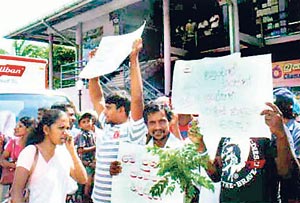 Residents protest against the alleged assault
Residents displayed the karapincha and said the police cannot distinguish between karapincha and cannabis. Pradeepa Nilanthi, who is the Ambalangoda Postmistress told the Sunday Times that she was returning from a funeral around 11.40 p.m. during the last weekend with her brother Anura Nishantha in his vehicle when they were stopped by the police.
" A team of six police constables stopped our vehicle at Kaluwadumulla, a suburb close to Ambalangoda town and ordered Anura to get off the vehicle. Later, while I was seated next to the driving seat, a constable opened the door and switched off the lights of the tipper.
Another constable got into the vehicle and flashed a torch into the vehicle and did a thorough search inside. All the while one police constable was restraining my brother. The police constable who searched the vehicle had found a bag containing karapincha and called out that he found a bag with karapincha in it," she said.
She said her brother had questioned the police party for the reason for the thorough search of his vehicle, in response to which he was abused in indecent language and taken behind his vehicle.
Pradeepa then said she alighted from the vehicle and approached the police team and pleaded with the police to let her brother go but the policemen assaulted him mercilessly with wooden poles while she kept screaming.
She said she was left behind all alone at the lonely spot in the middle of the night while her brother was forced into the police jeep and his vehicle driven away by a police constable.
She said she walked to the Ambalangoda police station to make a complaint. Pradeepa said her brother was kept in the police cell and released later and then admitted to Balapitiya Base Hospital with severe body pains and subsequently transferred to the Karapitiya Teaching Hospital.