WISDOM TRAINER INTERNATIONAL the pioneer who brought about the Personality Training Field in Sri Lanka proudly announces the launch of "SALES HEROES" a unique Sales Force Training Programme with a view to train the sales people of any company to give them an intensive training on almost every aspect that a sales person should reasonably know.
Dr.Kuma Iddamallena who initiated the Personality Training Field in the country says that Sales Heroes is a complete practical activity oriented SFT programme which will completely change the sales person into a courageous and confident selling personality. "Today the question is not how to sell but how to sell better than any other person and how to remain in the market until the right time comes" says Master Trainer Kuma Iddamallena and he further says that Sales Heroes is the ideal programme to face this challenge.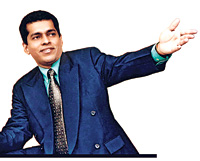 Apart from learning all the aspects of selling psychology, Mind Power and Mind Set Training is the key benefit for the participants of this programme. Meeting the customer, building a rapport with the customer, opening the sales conversation, objections handling, right questions to ask and answer, closing the sale, after sales behaviour and overall sales person's personality are some of the key areas practised.
"Service Master Personality" which was introduced by Wisdom Trainer focuses on Service Excellence training. This programme was well accepted by the corporate sector as well as public sector organizations. "Sales Heroes" goes beyond service excellence to achieve Selling Excellence.
Any person who wishes to be a selling expert should attend Sales Heroes to complete a six months selling course just in two days. Although it is two days, the participants will go through a comprehensive 12 hour practical training on each day. All participants who successfully complete all activities will receive a Sales Heroes Certificate.
Any person who wants further information on this programme can contact WISDOM TRAINER Hotline 4301301.