Why does America, after electing President Barrack Obama, continue to be racist? There may be many explanations. One of them is that by installing him at the highest position in the country, the Whites feel that they have cleared the debt they owed to the non-White world. Yet this does not make America liberal. In fact, the conservative path that Obama has been taking of late shows that he would rather acquire pro-White credentials than those of a liberal who looked as if he had joined issue on colour as well as capitalism.
I feel let down because I saw in him a bit of Lincoln, Roosevelt and Kennedy. What Obama has done is that he has effected only some cosmetic changes. He seems to have compromised with the vested interests in the fields of race and religion. A fresh thinking which I spotted in his pre-election speeches turned out to be a strategy to win votes. I feel sorry for him, but more so for America which invariably disappoints after evoking hope.
The treatment meted out to Shah Rukh Khan at New Jersey airport where he was detained for two hours is out and out racialism. That he is a Muslim doubled his sin. There is no explanation given for the biased questions he was asked. The lame excuse that it took time to check his luggage does not condone the grilling he was subjected to, as the US does to Asians and non-Whites.
The fact is that the democratic America ends when the real America, arrogant and prejudiced, takes over. The authorities that showed no decency to Shah Rukh Khan are trained that way. None of them is accountable and none of them is punished because they have humiliated even the best of Asians. In the case of Shah Rukh Khan they could not have made a mistake because he was there one month earlier, the computers at the customs and immigration counters having his full details, with his photograph.
India's former President Abdul Kalam was also roughed up. So was the then Defence Minister George Fernandes. I do not know if any punishment was given to the officers who humiliated Kalam and Fernandes. America is concerned about what happens to the White. Recently, an Indian family of five and 25 Poles travelled to America in the same plane. Only the Indians were checked and detained. The Poles were not stopped even for a second to keep the appearance at least.
Washington is also careful about what happens to the Chinese because they have the type of economy which can hurt America. Hapless India hardly matters, particularly when it is already queuing up before the White House or the State Department for favours. The successive governments at New Delhi have reduced the country to a client state. The Ministry of External Affairs indulges in some diplomatic acrobats whenever a Shah Rukh Khan-like incident takes place but then it goes back to its obligations under the strategic alliance with America. The ministry awaits another insult to go over the exercise once again.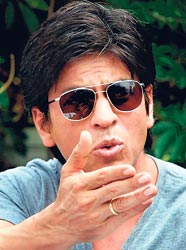 Bollywood actor Shah Rukh Khan gives a press conference at his residence in Mumbai regarding a recent questioning by US Immigration officials. AFP
I was happy when Information Minister Ambika Soni said after the Shah Rukh Khan incident that we should pay back in the same coin. I wish we would do so at least in one case so that the Americans come to realize that the nation which ousted the British has not yet become part of furniture. One MBA girl student assured me that the day was not far when India would be rejecting visa applications of Americans as they are doing in our case.
It is time that the Americans realize that the word, ugly, for them is returning with a vengeance. America's resolve to fight against terrorism and its soldiers in Afghanistan pale into insignificance when Washington has no respect for the non-Whites and when it believes that it can get away with all the insults it can heap on Asians, Africans and Arabs. Enough is enough.
And how Washington meddles into the internal affairs of nations can be judged from a circular the US Commission in International Religious Freedom (USCIRF) has issued. It has placed India on its watch list for what it calls Indian government's largely inadequate response in protecting its religious minorities.
USCIRF has said that India earned the watch list designation due to the disturbing increase in communal violence against religious minorities specifically Christians in Orissa in 2008 and Muslims in Gujarat in 2002 and the largely inadequate response from the Indian government to protect the rights of religious minorities.
India feels itself ashamed over what has happened in Gujarat and Orissa. Still, we are more concerned over racialism practised in our own country. We suffer from the same bias of superiority of the White. Students from Africa and the northeast complain of our prejudice against them on the basis of colour or race. They find it hard to get accommodation and have practically no opportunity for social gathering with other Indians.
Our literature is full of praise for a woman who has white complexion. Kalidas in his books compares the beautiful with the ones who are white. Shakuntala is bewitching because she excels the white in looks. Probably, this attitude is because of our slavery of 150 years at the hands of the British, the White. We have not been able to jettison our slavish complex.
But who are Americans to teach us how to treat the minorities? They have a society which feels superior because it comprises the White. The treatment meted out to minorities in their country is unprintable. We should also set up a committee to look into complaints by the black and the religious bodies against Americans and then place Washington on the watch list. All that I can tell the US is: Physician, heal thyself!