TAFE NSW - Western Sydney Institute's Blacktown College, located 15 minutes from the Norwest Business Park, offers a broad range of courses and services to meet the needs of about 7,500 students. International students have the opportunity to study Certificate, Diploma and Advanced Diploma level courses in Business and Office Studies, IT and Tourism Studies.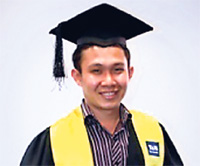 Elbe Somes is an international student from the Philippines who completed the Diploma in Information Technology (Networking) and was nominated for the International Student Award for 2008. With the assistance of his TAFE teachers at Blacktown College, Elbe now works as an IT Help Desk Analyst for a Sydney-based company. 'This shows how employable our graduate students are and also demonstrates the industry links between our teachers and employers', said Catherine.
One of the popular courses among international students is the Diploma of Information Technology (Networking), TAFE NSW Course no: 19016, CRICOS code: 058604D. This is a two year full-time course and the course fee is AUD 20,340. The academic entry requirements for students from Sri Lanka are 3 passes at the GCE Advanced Level or 2 passes at the London Advanced Level. A recent academic IELTS score of 5.5 is an essential English entry requirement.
The Diploma in Information Technology (Networking) course provides the skills and knowledge for an individual to be competent in high level network management and engineering for organisations. Blacktown College has highly skilled and Cisco trained teachers. Brian Clarke and Catherine Miller are the Head Teachers of the IT Section at Blacktown College. The teachers deliver high quality technical and practical skills on genuine Cisco routers and switches. Cisco qualifications are recognised worldwide. Students who complete the Cisco Academy programme are highly regarded by employers in the industry.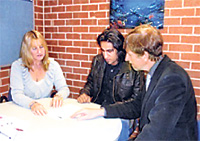 Brian Clarke - Head Teacher, Information Technology and Catherine Miller, Head Teacher Information Technology at Blacktown College assisting an international student enrolled in the Diploma in Information Technology (Networking)
Brian is a qualified Accountant and is a member of the Australian Computer Society (ACS) and the National Institute of Accountants (NIA). Catherine is from the Textiles and Fashion industry and moved into IT as a specialist in applications/software. Both Brian and Catherine hold postgraduate qualifications and regularly update their IT industry knowledge.
When asked about the pathways for international students Brian explained, 'Completion of the Diploma in Networking provides a pathway to the Advanced Diploma in Information Technology (Network Security). Students may also be eligible to do a related university course'.
'The University of Western Sydney (UWS), which is located near TAFE NSW Western Sydney Institute, has an arrangement with TAFE NSW. TAFE students graduating with this two-year Diploma will get 80 credit points towards the 3 year Bachelor of Information and Communication Technology (3639)'.
Career opportunities for those who successfully complete this course include: Configuration Specialist, Enterprise Application Integration Consultant, E-security Analyst/Manager, Integration Analyst, Integration Centre Specialist, Internet Engineer, Middleware Integration Specialist, Network Engineer, Senior Java Developer (major systems integration), Solutions Architect and Systems Engineer.
For more information on TAFE NSW - Western Sydney Institute and college locations in Sydney, please contact In Sri Lanka
David Samuel, Manager-Business Development, Australian Trade Commission (Austrade)
Phone: 2463253 (Direct) 2463200 (through Reception)
Email: David.Samuel@austrade.gov.au