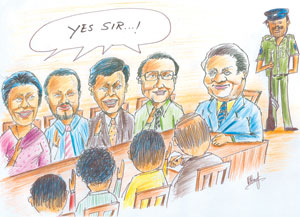 Directors of two companies F& G Real Estate Co Ltd and F&G Property Developers (Pvt) Ltd held board meetings inside the Welikada Magazine Prison this week and unanimously adopted two separate resolutions to repay a sum of around Rs.8.3 billion to 5,600 depositors.
The meetings were held on Thursday and Friday. Court permission at the request of Deputy Solicitor General Yasantha Kodagoda, was given to hold these meetings, the first time-ever in the world where a court has sanctioned such a meeting.
One of the resolutions, a copy of which was obtained by The Sunday Times FT, said: "We the directors of the company hereby resolve to take all necessary action in good faith and diligently and make every possible endeavour to settle the afore-stated deposit liabilities towards the depositors …, by conducting an appropriate lawful business enterprise in accordance with the applicable laws and procedures, and thereafter vest such assets too to the trust referred to herein."
At Thursday's meeting, Kotelawala – in remand since February 25 – was casually dressed wearing a light blue shirt and a blue tie and conducted the meeting at the prison's main hall in a relaxed frame of mind. All the directors were in casual dress but they were in a 'sad' mood when Kotelawala moved the resolution for adoption, according to others present. The directors in a one voice said 'yes' approving the resolution unanimously.
Those who attended were Mervyn Jayasinghe, K.A.S Jayatissa, Mohan Perera, Chalaka Perera and Ranga Nanayakkara (all in remand), and Mala Sabaratnam, Samanthika Jayasekara and P.K Dharmasiri. Company Secretary, Attorney at law Indunil Bandara was also present.
Friday's meeting was attended by the same directors excluding Perera and Nanayakkara who are not directors of this company (F&G Property Developers).