Three decades of brutal war have come to a close but there's no time for a sigh of relief. Much work needs to be done in picking up the pieces and rebuilding Sri Lanka, and one integral part of this effort is the 'reconciliation activities'. These involve bridging ethnic divides and creating understanding between the ethnic groups.
While it may seem an uphill task, many of these activities are being done with a heaped spoonful of sugar with youngsters of different ethnicities participating in fun and interesting projects. Targeting children aged 13 to 16 years a workshop on film-making was organised by the US Embassy and the Galle Film Festival and conducted by Constance Tillotson, a well-known and charismatic American acting coach. For the 40 children from Moneragala, Hatton, Batticaloa, Puttalam,Trincomalee, Hambantota, Jaffna, Galle, Anuradhapura, Matara and Bandarawel it was an inspirational experience last week at the Sarvodaya Training Centre in Bandaragama.
Though from diverse ethnic backgrounds, language, gender or age did not stand in the way of allowing their creative juices to flow at the workshop.
Constance's career in the film industry began when she landed a role as Angela Landsbury's waitress on "Murder, She Wrote". The movie gave her a foot in the door in Hollywood and she sauntered through to become the star performer in several award-winning movies. Constance is also the founder of Sterling Studio, an acting school for young actors between the ages of 7 to 19. The studio is said to have "quickly become the gold standard for exceptional and professional young performers".
An actor, writer, director and producer brimming with enthusiasm, Constance loves children and certainly was the ideal choice to conduct the film camp in Sri Lanka.
This isn't the first time she has been involved in social activities in Asia, having had the experience of conducting a workshop on movie making in the Maldives for heroin addicts at a rehabilitation centre.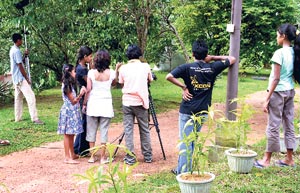 Shooting a scene and (top) Constance in animated discussion with the children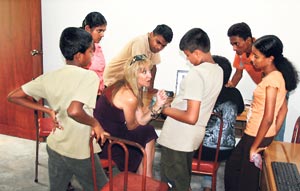 "It was such a highly successful event that when coming to Sri Lanka I thought- 'the Maldives was beyond extraordinary, how do I top this for myself'. Because I believe every project I take on is, as we say in America, my personal gain. So we can always be better in the next thing we do. But when I came to Sri Lanka, where I'd never been to before, I found that just after the first day it was like I wasn't working with interpreters any longer," says Constance animatedly.
Communicating with the children had been one of Constance's nagging worries. On the first day she and the participants relied heavily on interpreters and a few children who could speak both languages, but by the second day Constance who strongly believes in people connecting with each other with their energy was able to communicate with the children in a manner that was beyond language.
"What blew me away is that, I work with great actors in Hollywood and sometimes it's very difficult for them to take direction but with these children I would give acting direction or advice on set and they'd redo the scene, taking the direction like an expert. It would take a discussion with actors from Hollywood who speak my own language to understand what I wanted in the scene but these children were taking direction like 30- year-old pros. It was amazing to be witness to it, and it was so beyond language.
"It was fantastic because language didn't delay any of the progression of teaching them the craft of acting and screenplay writing. I've been very fortunate to work with and have personal friends who are Oscar winning actors and writers in America, I sit on the board of the Screen Actors' Guild and oversee casting done at one of the most prestigious film schools in America called the American Film Institute. I give lectures on how to direct films, and I can tell you seeing the end result of what the kids in Sri Lanka did, some of them were a lot better than the films I've seen in America," she says, adding "they did such an outstanding job that if they got to do that on a daily basis they could be extraordinary film-makers."
The three short films made by the children will be screened at the Galle Film Festival this October. They will also be available on the US embassy website. Constance feels that the films are too impressive to be kept away from an international audience and hopes to have them screened at the American Film Festival and Screen Actors Guild. She also intends having her students watch the films as she hopes they will learn invaluable life lessons from the Sri Lankan children.
"These children are so independent and hardworking and intelligent. They know that they have to learn if they want to make something of themselves. American children who have these resources at their fingertips tend to take these things for granted, so I want them to adopt these values," Constance says.
Buoyed by the success of the workshop Constance added that she hopes in the future similar workshops will be arranged and opportunities created for these children to work in the film making industry.
The renowned film coach says that at the end of the workshop the children took home a lot more than simply the knowledge of film making. Planting seeds of unity in children, we can hope that they spread and share what they learnt through these reconciliation activities with their peers, she says.