It looks that the Lankan senior cricket coaching staff in for good times. The SLC Interim Committee has decided to put their senior coaching staff under a new win bonus scheme with immediate effect.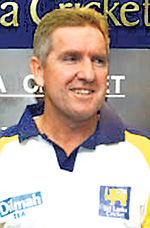 Bayliss and his staff are in for good times
According to SLC Interim Committee secretary Nishantha Ranatunga the scheme has been introduced as an impetus for the coaching staff. He said "Earlier we introduced this scheme to the national players and it seems that it has had a very good impact result wise, so we decided to extend the same to the coaching staff too.'
The Lankan senior staff comprise Trevor Bayliss (Coach), Chandika Haturusinghe (Shadow coach), Manoj Abeywickrema (Fielding coach) Tommy Simsek, (Physio) Lal Thamel (masseur) and Jade Roberts (Trainer), Meanwhile SLC also has advertised the position for the assistant coach with Englishman Paul Farbrace taking up appointment as the head coach of English county Kent.
Ranatunga commenting on it said "The position is opened till the end of this month and so far we have a quite a number of inquiries from very prominent cricketers of the past and we should fill that position soon after the closing date is over".