Sri Lanka's garment exports continued to decline in June, for a second month in a row, although at a slower rate. Export data for the month of June, released by the Joint Apparel Association Forum shows that revenue from the country's biggest manufactured export item, garments, dropped by 5.6% in the month of June (US$ 237.8 million ) compared to June 2008 (US$ 252.6 million) . This follows a much larger 22.23% drop in the month of May compared to May 2008.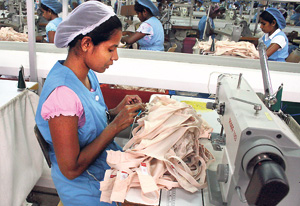 Workers at a garment factory
The drop in June export earnings are due mainly to a sharp 21.6% drop in export incomes from the US. However exports to EU increased by 10.8% in June 2009 compared to June 2008. The two months of declining export earnings (May and June) have reversed the overall export growth trend for the year. The garment sector recorded a 8.8% increase in exports in the first quarter of 2009, compared to 2008. However, by the first half of this year (January to end-June 2009) total exports reduced by 2.4% compared to 2008.
Apparel exporters say exports are likely to recover by October this year when local factories start exporting for spring 2010 orders. "The picture looks better for spring 2010. These exports will start by about October 2009. So exports should start picking up again by around October," the President of the Garment Exporters Association, Kumar Mirchandani, told the Sunday Times FT. Exporters say the drop in sales is due to a combination of lowering demand from the US and the EU, due to recession and also increased price competition.
Sri Lanka's garment sector is expected to continue to "consolidate" throughout the rest of the year. Translated, this means more unviable factories being taken over by larger factories, downsizing and even factory closures. Already, although the numbers are disputed, the garment sector is seen to have the highest number of job losses stemming from lower export orders.
Trade unions are also accusing garment factories of shedding work forces by not re-hiring workers when they leave. The garment sector has a natural attrition rate of around 5% per month. Shedding through natural attrition is not recorded as lay-offs. Trade unions say the garment sector is also increasing outsourcing to the informal sector and is increasing work loads of existing workers, to cut costs.