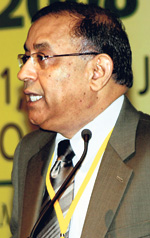 Mr. Jayasundera
A 7-Judge Bench of the Supreme Court will hear the motion filed by former Secretary to the Treasury Dr. P. B. Jayasundera, seeking to revoke a pledge he had given the Supreme Court that he would not hold any government position.
The decision was taken on Thursday by a 5–Judge Bench of the Supreme Court upholding the preliminary objection raised by M. A. Sumanthiran, counsel for petitioner Vasudeva Nanayakkara and the 22nd respondent Nihal Sri Ameresekera saying that it's improper to hear the case without allowing the three other judges who were among the members of the previous bench of the Supreme Court who heard the case and delivered the LMS judgment, to be on this bench too.
The seven judges which will include justices Shirani Thilakawardane and P.A Ratnayake who delivered the original ruling on Mr. Jayasundera, will hear the case on September 24. In an affidavit submitted to the Supreme Court on October 16, 2008 Dr. Jayasundera pledged that he would not accept any government position in the future. However a new motion filed by Dr. Jayasundera requests that the SC nullify the affidavit that includes his pledge and give him an opportunity to fulfill the request made by the President.
The President has asked Dr. Jaysundera to accept the posts in the Treasury and the Ministry of Finance on the 25th of May through his Secretary.