Trincomalee's Government Agent Ranjith Silva, a retired Major General, has ordered the immediate suspension of all new registration of land. The move is intended to prevent illegal transactions of land until a full probe is conducted.
This is whilst two different top level inquiries have got under way into last week's Sunday Times disclosure that local politicians were selling prime beach land at Uppuveli in Trincomalee. Criminal Investigation Department (CID) detectives have been sent to Trincomalee, Police Spokesman Nimal Mediwaka said yesterday. He said it was too early to comment on the findings.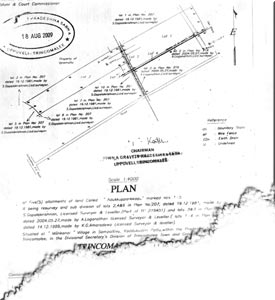 Mr. Kodikara's plan approved by the Trinco Town and Gravest Pradeshiya Sabha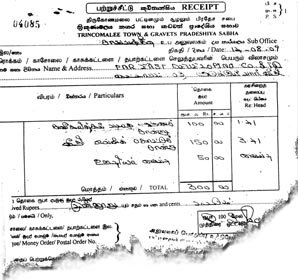 The receipt for assessment tax paid for Kodikara's land
The other inquiry has been ordered by Eastern Province Chief Minister Sivanesathurai Chandrakanthan. The Chief Minister's Secretary, A. Devaraj, said yesterday they were probing charges against the heads of two local bodies – S. Gowri Mugunthan, Chairman of the Trincomalee Town Council and T. Kantharuban, Chairman of the Trincomalee Town and Gravets Pradeshiya Sabha.
As the investigations got under way, the Sri Lanka Navy is continuing to guard a prime plot of beach land and more details of irregularities have begun to emerge.
The move came as the Co-ordinating Secretary of a non Cabinet Minister visited the Trincomalee District Secretariat and sought an old deed that had covered an extent of 100 acres. He had photo copied the document. Thereafter, he had turned up at a later occasion to register 60 acres of land under a different name.
In another instance, Ranjith Kodikara, a businessman has complained to the Special Investigations Unit of the Trincomalee Police that he had purchased a prime block of land between Uppuveli and Nilaveli and held a deed. However, he had discovered another deed had been made for his own property. He alleged that the Chairman of the Town and Gravets Pradeshiya Sabha had claimed ownership.
Strange enough, Mr. Kodikara told The Sunday Times, on August 18, the same Pradeshiya Sabha had certified the same land and confirmed it was owned by him. The Far Eastern Developing Company, an establishment he owned, had paid the assessment rates. He was in possession of the receipts, he said.