The cinematic version of the popular teledrama 'Suseema' was completed successfully and is undergoing post production phases."We were able to complete the filming schedule and the film will be going to India for post-production," Rohan Weliwita the newest filmmaker told the TV Times.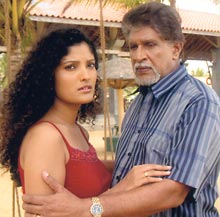 Paboda and Robin Fernando
"The film was a challenge for me and for everyone in the cast. I was doing the film based on a story that first came in print as a comic story written and drawn by Janaka Ratnayake and then made into a teledrama twenty years ago by me. I had the challenge of doing justice to the work of art I myself presented in a different medium," Rohan said.
"The cast was playing roles of Ranga, Asela, Suradewa, Mike and Suseema earlier played by Palitha Silva, Jackson Anthony, Granvile Rodrigo, Sathischandra Edirisinghe and Menik Kurukulasuriya and they had to do justice to these players," director said.
"I am fully satisfied with the new cast comprising Suraj Mapa, Saranga Disasekara, Paboda Sandeepani, Kapila Sigera, Dusmantha Prasad and Robin Fernando,". Others in the cast include Nirosha Thalagala, Melani Asoka, Wasantha Gunasekara, Pavithra Wickremasinghe, Ransiri Jayawardana and Rose Alagiyawanna.
Speaking on the bringing down of veteran award winning musician Nimal Mendis to write the cinematic score, Rohan said that he wanted to have a Sri Lankan cultural touch with western style in his background music.
"I thought that the cinematic version of 'Suseema' needed western piano style music," he added.
Story and dialogue by Janaka Rathnayaka, the art director and editor is Janaka Enimankada, and make up by Priyanka Rathnayake. Camera is handled by Dinesh Prasanga and A. S. P. Liyanage produced the film.
Director's dilemma over distribution
Having completed the major part of the film, Rohan Weliwita is in a dilemma on its distribution. The director is planning to introduce an alternative film releasing system by using limited seat 'High Definition Cinema Theatres'.

Director Rohan Weliwita
The whole system of film distribution in this country is discouraging the film producers. Having spent millions over films the producers only get 45% of the profit while the remaining 55% goes to the film distributor. There is a monopoly over film distribution.
I am in a dilemma as to whether to go with this system or introduce at least a few High Definition Cinema Theatres and getting the maximum benefit to the film producer. This is an idea brought forward at different times and I think this would attract more and more producers to the industry.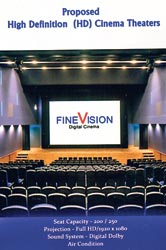 HD Cinema Theatre planned by Rohan
Describing his plan Rohan said "we are inviting anybody with at least a 100 seat theatre hall and we are ready to provide the sound and play system,"
The film director further said that that he planned to make it a joint venture with the government Cultural Ministry or National Film Corporation and get government owned buildings to prepare mini theatres.
When inquired on the move from veteran filmmaker and lecturer, Dr. D. B. Nihalsinghe one of the first who brought forward the idea fifteen years ago.
"When I first made this proposal to Film Corporation people they laughed at me but this should be the way it should happen," Dr. Nihalsinghe said.
"But this should be done in a concerted and targeted way with an involvement of a businessman who could address the whole issue. At present one who would is going to benefit is film producers.
"This type of theatres will need films that are done with high definition technology and it would be useless to have theatres without the films," analysed the veteran filmmaker and scholar.