Well-known investor Jim Rogers, who founded the Quantum Fund with billionaire investor George Soros, was in Sri Lanka last week on a 'quiet' 3-day trip which included meetings with top government officials, the Sunday Times FT reliably understands.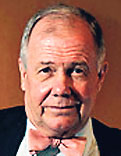 He met several government officials during a hitherto-unannounced visit. "Yes, he was here and told me – during a long conversation – that he is very bullish on Sri Lanka," one official, who declined to be named, told the Sunday Times FT. News of Mr Rogers' visit is certain to stimulate the Colombo stockmarket which has not picked up as much as most investors expect.
The 67 year-old investor, frequently quoted in recent times in international news wires about Sri Lanka being a good investment following the end of the war, also visited Kandy during the low-key trip. There was no information as to whether he met with corporate heads and private sector officials.