As the Festival Director of the Galle Literary Festival, Sunila Galappatti has made a career out of celebrating good writing.
She spent an idyllic childhood growing up on the Peradeniya University grounds as a "campus child" and has lived in Sri Lanka, Holland, Denmark, Bangladesh, and cities in the UK that she says were so different from each other as to seem like entirely new countries.
Consequently, she is to be admired for having survived an impressive 23 housemoves in 30 years. Her latest one brought her back to Colombo, marking the end of a long spell in the U.K where she served the Royal Shakespeare Company as a Director and Dramaturg. If you don't know what a Dramaturg is, don't worry, neither did she.
"I discovered that it means the person who sits in rehearsal rooms and does the detective work on why a play is or isn't working - and in the companies I worked for it also involved commissioning and advising playwrights and scouting for new talent," explains Sunila.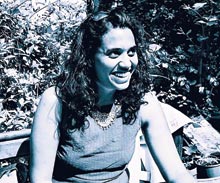 Sunila Galappatti
These days she spends much of her time shuttling between Colombo and Galle and is already neck deep in planning the 2010 Festival.
What are you reading right now?
Am I given grace, on account of my job, to be reading more than one thing? The Hamilton Case by Michelle de Kretser for the Festival, Zeitoun by Dave Eggers for myself and The Giant Jam Sandwich to my three-year-old niece.
Are you enjoying it?
I am thrilled by the quirky detail of The Hamilton Case but the chapters about Maud returning to Lokugama keep stopping me with sadness.
Dave Eggers writes with a humanity that has come to feel as comforting as a home. This book is based very closely on one family's experience of Hurricane Katrina but this is a writer who can even write movingly about an outdoor shower.
The Giant Jam Sandwich-- I won't ruin for you - make sure to find it and read it.
If you could have absolutely anyone you wanted, which author would you like to see at the Galle Literary Festival next year?
I've written to them all! Here's hoping.
Is there a book you wish you could go back and read again, as if it were for the first time?
Moby Dick (Herman Melville). I'm serious. I had to read and write on it in university and I thought: A 600 page novel about a whaling ship! I'm going to get out of this one. I called my brother, whom I knew had read it, hoping he would back me up in my decision. He said 'no, it's quite good actually.' I read solidly for three days.
Any book that you tend to quote from in casual conversation?
It's not a book as such but I often think of lines from King Lear. Still, I hope I have more sense than to go around quoting Shakespeare at people. My favourite lines from all literature are:
'Men must endure Their going hence, even as their coming hither; Ripeness is all.' Now you know.
Author Neil Gaiman has spoken of how he can sometimes look out over a particular landscape and immediately recognize it as something out of the Lord of the Rings. He says this happens most with books that are deeply familiar, specifically those he read as a child.
Is there an equivalent for you?
It isn't so much something that happens with landscapes but there are feelings that take me straight into particular scenes from To the Lighthouse (Virginia Woolf), or The Master and Margarita (Mikhail Bulgakov) or Running in the Family (Michael Ondaatje). It's as though I'm in those rooms in those books and at the same time standing right here.