TOKYO, Aug 29 (AFP) - Japan holds a landmark election on Sunday set to end half a century of almost unbroken conservative rule and bring to power a centre-left party in Asia's largest economy.
Polls predict the opposition Democratic Party of Japan (DPJ) will trounce Prime Minister Taro Aso's Liberal Democratic Party (LDP), which has been in power for all but 10 months since its founding in 1955.
The DPJ could win more than 300 seats in the 480-seat lower house, the Yomiuri Shimbun daily has predicted after it questioned more than 85,000 voters, pointing to the "DPJ's overwhelming momentum".
"We are at a historic turning point that will allow Japan to be reborn," DPJ president Yukio Hatoyama cried out as he addressed voters in Ibaraki prefecture, northeast of Tokyo, in final campaigning this week.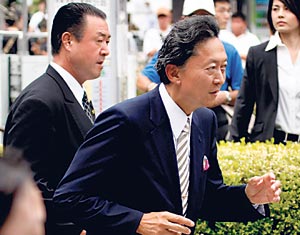 Japan's opposition Democratic Party leader Yukio Hatoyama runs toward voters during a campaign for the lower house election in Sakai, western Japan, August 29, 2009. Candidates across Japan made their final pitch on Saturday on the eve of an election. (Reuters)
"It's time to change the nature of politics for the sake of your lives and your future," said Hatoyama, a 62-year-old US-trained engineering scholar and the scion of a political dynasty sometimes dubbed Japan's Kennedys.
Turnout is expected to be high, and more than 10 percent of Japan's 104 million eligible voters are expected to have cast early ballots by Saturday. Media exit polls are expected at 1100 GMT Sunday.
Opinion polls have for months pointed to a DPJ victory as the electorate has grown increasingly frustrated with the LDP's leadership during an economic downturn and despaired at the gaffes and slip-ups of the premier, Aso.
"Japanese voters will finally have a chance to deliver their verdict and bring a power change," said Takehiko Yamamoto, professor of politics at Waseda University in Tokyo. "Now that the DPJ's victory appears certain, the focus has shifted to how significant the margin of their victory will be." The DPJ already controls the upper house with the support of smaller parties, including the Social Democrats. A two-thirds majority in the lower house would give the party carte blanche to push through legislation.
While few observers expect radical change if the DPJ takes power, Hatoyama has signalled that his party would seek to boost social welfare and back away from the current government's more hawkish foreign policy stance.
Hatoyama has said his party would not extend an Indian Ocean naval refuelling mission to support US operations in Afghanistan, the top foreign policy focus of US President Barack Obama.