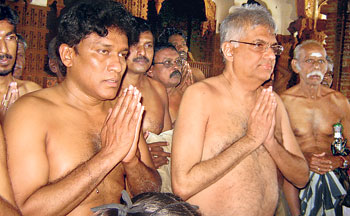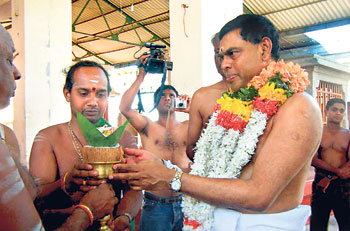 Both, the Government and the Opposition are wooing the minority Tamil vote in no uncertain ways at the forthcoming Presidential Election. Our twin pictures show (right) the President's brother, Special Adviser and campaign manager Basil Rajapaksa at the Thiruketheeswaran Kovil in Mannar on Thursday, while (left) Opposition United National Party Leader Ranil Wickremesinghe was at Jaffna Nallur Kovil invoking the blessings of the gods to bring victory to their respective camps. President Mahinda Rajapaksa was visiting the IDPs at the same time. Pix by Mark Anthony and N. Parameshwaran
Good to Great Marketer
Welcome to a function that nobody understands and everybody thinks they know better than you do. Marketing is often perceived as a creative industry -
Living a myth

Have you even heard of that story about the King Frog whose hubris finally lead to his demise? It goes like - once upon a time there was a big fat frog who was under the impression
Polls commissioner cautions President
Elections Commissioner Dayananda Dissanayake has declared that it is inappropriate for President Mahinda Rajapaksa to entertain public officials after a Presidential election has been declared.
TMVP sways, keeps options open again
The Tamil Makkal Viduthalai Pulikal (TMVP), the largest political party in the East, now wants voters to support "a candidate who has the backing of a political party" that would resolve Tamil grievances. This official position of the party was declared in a statement (issued in Tamil) by the TMVP after a politburo meeting on Friday.
Let not rights be just rites
With almost every day of the calendar year designated to mark some subject or other, this week's International Human Rights Day passed as insignificantly as ever.
Attacks on media: The story unfolds -Political Column

"Are you confident," asked Robert Blake, the senior-most official in the Obama administration to visit Sri Lanka in recent months, from President Mahinda Rajapaksa last Tuesday.
Safe and small wins the race

It was the second triumph for Sri Lanka at this prestigious global competition. Seated in the front row in the auditorium at the Hague in the Netherlands on December 1 as one of the three finalists of the 'World Challenge – 09' conducted by Shell,
King John's suggestions
There were two leaders appointed to the group of envoys, who were to visit Lisbon, to meet King John III. They were Sri Radharaksha Pandit and Salappu Arachchi.
MOST VIEWED ARTICLES

LATEST NEWS