Louis Cruise Line of Cyprus, the fifth largest cruise operator in the world, made its maiden voyage of its luxury cruise ship 'Aquamarine' to Colombo on Monday from Cochin with 500 Indian passengers. Sri Lanka Tourism is ushering this latest call to the Colombo Port as part of a plan to integrate the tourism industry with the Asian region. Speaking at a press briefing on the 'Aquamarine', newly appointed Minister of Tourism Achala Jagoda said the Ministry is even looking at the possibility of bringing the vessel to Hambantota during the 2011 Cricket World Cup.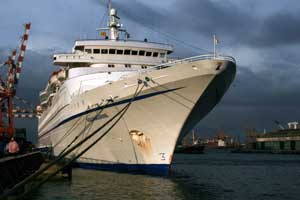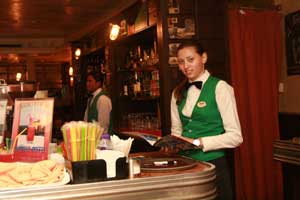 The cruise ship and a bar inside. Pix by J Weerasekera
Managing Director of Louis Cruises India Oneil Khosa said Sri Lanka can expect 30,000 Indian passengers in five months. "It is not all about the number of passengers," Mr. Khosa said. "It is about word of mouth and seeing Colombo. "The Sri Lanka Tourism Promotion Bureau and Louis Cruises should work together to promote Sri Lanka as a tourist destination.." He added that Sri Lanka is already included in the global marketing activities of Louis Cruises. Rates per passenger start at US$100 per night. "This is an excellent proposition," Mr. Khosa said. "Even lower rates have been extended to some travel agents in Sri Lanka."
According to the latest statistics from Sri Lanka Tourism, the number of tourist arrivals in November 2009 increased by 20.1% year-on-year to 44,311 compared to 36,901 arrivals in November 2008. The number of tourists from India increased by 38.7% to 8,769 in November 2009.
The 'Aquamarine' has 405 cabins and can carry 1,200 passengers. Captained by Stathis Romeos, this will be the first regular fixed day cruise operation to Sri Lanka. The vessel will ply between Cochin, Male and Colombo with weekly calls at the Colombo Port. It will arrive in Colombo every Monday at 2 PM and depart every Tuesday at 3 PM. The 'Aquamarine is equipped with restaurants and bars, a nightclub, indoor cricket, slot machines for gambling, a swimming pool, shops and a beauty salon.
As Colombo is a new market, Mr. Khosa said longer duration of cruising should be refrained from for the moment. "It all depends on how Sri Lanka is promoted." He added that he is hopeful that within a few seasons, the duration of stay in Sri Lanka can be extended.
A Sri Lanka tourism press release stated that an MOU has been agreed upon between Louis Cruises and the Sri Lanka Tourism Promotion Bureau (SLTPB) which addresses the possibility of using Colombo as a future home port, the necessity for and the advantages of keeping the ship longer in the Colombo Port and also of making the ship available during the Cricket World Cup. Sri Lanka Tourism is also having discussions with the industry as well as with the authorities concerned, to using the sea around the island as well as inland waterways for recreational activities, including the introduction of houseboats.
Deputy CEO of Louis Cruises, Louis Loizou said the Louis Group, founded in 1935, is a diversified group of companies functioning internationally through Louis Cruises and Louis Hotels which is the largest hotel chain in Cyprus and Greece combined.