Dr. Devapriya Nugawela, Chairman and CEO of the Link Natural Products Private Ltd., Sri Lanka's top herbal healthcare and personal care manufacturers, has been appointed as the First Honorary Consul of the Republic of Zambia in Sri Lanka by the Zambian government, the Sri Lankan Foreign Ministry announced this week.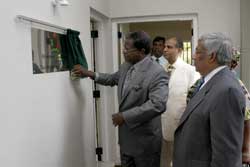 The Zambian High Commissioner opening the Zambian Honorary Consulate in Colombo.
The Honorary Consulate office was declared open recently by Keli Walubita, the High Commissioner for Zambia based in New Delhi, in Colombo.
In his remarks, at the opening ceremony, the High Commissioner underlined the importance of having a Zambian Consulate in Sri Lanka and added that the Zambian government is proud to have someone of the calibre of Dr. Nugawela as their First Honorary Consul.
Dr. Nugawela said that, "We have been in the past providing professionals like accountants, engineers and teachers to Zambia. It is a changed situation now. We can now develop business and trade, investment, education, science and technology, tourism agriculture and cultural exchanges between our two countries. This Consulate would act as a catalyst in promoting such activities."