Susantha Boteju of YMCA clinched the M.J.M. Lafir snooker tournament with a convincing five frames to two win over Ryan Somaratna of OAC in the nine frame final of the 8th M.J.M. Lafir Billiards and Snooker tournament played at the MICH billiards table yesterday.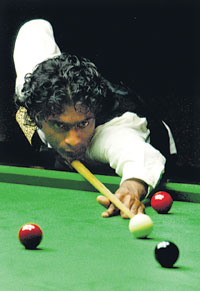 Susantha Boteju in action Picture by Ranjith Perera.
Boteju who was the runner up in the same tournament when it was last held ten years ago in 1999 went a step further.

It was a repeat final between the reigning national snooker champion Boteju and runner up Somaratna who both battled for supremacy in the snooker nationals held early this year. Young Somaratna succumbed being unable to match the experienced Boteju who has won the national title more than ten times.

Boteju in fact was the favourite to lift the title though undergoing a defeat to Indian Varun Kumar in a round robin encounter. But he took sweet revenge when he defeated the other Indian Saleem in the semi final clash. The final clash was turning out to be a one sided affair with Boteju taking an early three frame.
The tournament was conducted by the social and recreation committee of MICH in honour of the late M.J.M. Lafir who was the first ever Sri Lankan to bring a world cup title to the island when he won the World Billiards title in 1973. The winners of the billiards and snooker tournament received the trophy plus a cash award of Rs. 25,000/- each while the runners up received a cash award of Rs. 15,000/-.

Snooker Final:
Susantha Boteju (YMCA) beat Ryan Somaratna (OAC) 5/2 (66/48, 74/00, 63/27, 42/63, 35/59, 60/37, 71/26)