"When a Political Party participates in a systematic deprivation of life and property, they thereby abdicate their right to represent the people. If by their actions they hinder the peoples' right to life and liberty, the Party/ies in question should be deemed a terrorist organization," – an excerpt from one of the University of Colombo (UOC), Law Faculty's Moot Court and Debating Society (MCDS) – 'A Teams' winning proposition arguments on the topic 'This House could declare political parties engaged in organized violence as terrorist organizations,' at the 8th National Law School of India University Debating Championship, held from November 28 to December 4, where they emerged champs.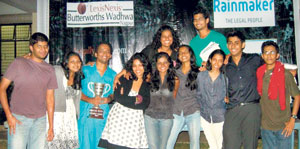 The champion 'A Team' comprised Shamalie Jayatunge, Luwie Ganeshathasan and Sachintha Dias, who defeated the team from R.V. College of Engineering, Bangalore in the Finals, with the three Lankans being ranked as the 3rd, 4th and 7th Best Speakers of the tournament respectively. The 'C Team' which emerged as champions of the Novice Category, defeating the National Academy of Legal Studies and Research, University of Law, Hyderabad, comprised Galusha Wirithamulla, Sanduni Wickramasinghe and Shanil Wijesinha. Shanil was also adjudged the 'Best Speaker in the Novice Category,' whilst former MCDS debater Damitha Karunarathne was ranked 'Best Adjudicator of the Tournament.'
"80 teams from India, Pakistan and Bangladesh competed at this year's competition. The Sri Lankan delegation included three teams from the Faculty of Law and a team from the Faculty of Arts, UOC and a team from the University of Moratuwa," elaborated Sachitha.
The MCDS born in 2004, was formed essentially to create a space for students to dialogue and engage free of taboos and restrictions. The Society promotes participation in international mooting and debating competitions, organizes debating and mooting competitions locally and hosts the trilingual Annual Sri Lanka Schools Debating Competition, out of which a pool of the best speakers are hand-picked, with the top five being sent to represent the country at the World Schools Debating Championships, explained Shamalie, President of MCDS.
The debates are conducted under the Parliamentary style, where debaters need to thrash out real life policy issues, inclusive of each speaker responding to at least two Points of Information (clarifications) at his/ her discretion during the course of their speech. Each team is given 20 minutes to prepare for a given topic. Also, the proposing team has the discretion to define themselves as an entity of their choice (The Government, EU etc), she added.
Some of the more interesting topics included 'Lifting the ban on slaughtering cattle in India,' 'That rape cases should be presided exclusively by female judges,' 'Decrying the ban on cartoon pornography in India,' 'Criminalize extreme lack of hygiene,' and 'Pay smokers to quit smoking.'
"Even though we weren't under much pressure to win, we did our best and it paid off. The experience and exposure of debating against international teams and the team effort we all put in was really great," said jubilant Galusha of her experience.
"Being an adjudicator is just as tough, if not more so, than being a debater because you have to justify your every decision substantially, especially since we're ranked by the teams based on our impartiality and reasoning skills. It was very self satisfying when a couple of teams I gave some constructive criticism to, took it to heart and really upped their game in the rounds that followed," said Damitha proudly.
According to Lilan Wickramaratne, making his debut as an adjudicator in the international arena, "it was important to have an open mind, listen intently to both arguments, give out constructive criticism and to be able to fully substantiate the decisions you make."
"We'd like to thank Prof. Sharya Scharenguivel our Staff Advisor and our Dean – N. Selvakkumaran for their encouragement and support always, and a special thank you to all our past debaters for helping us along the way, and for laying down the basic groundwork from which we've benefited greatly," said Luwie appreciatively.