Sri Lankan supermarket chain Cargills Food City on Thursday made public its plan to open a further 100 across Sri Lanka "in the coming years".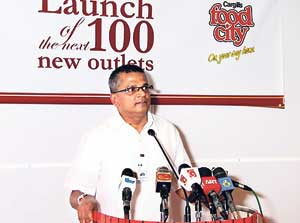 Ranjith Page at the launch
According to Cargills Chief Executive Ranjith Page, who was speaking at the opening of the chain's 140th outlet in Rajagiriya; "The launch of our [140th] outlet is all the more special because this outlet marks simultaneously the first of 100 more Cargills Food City outlets that will be set up in neighbourhoods across 25 districts in the coming years".
Meanwhile, referring to Cargills's oft stated stance of dealing directly with farmers who form part of its "out-grower network", a relationship widely considered to be the public face of the company's interaction with rural Sri Lanka, Mr. Page added: "I am confident that the 100 new Cargills Food City outlets will create an agricultural revolution that will be the engine for growth for the nation".
Interestingly, according to the Cargills Food City statement, "70% of the workforce" is employed from rural Sri Lanka while "over 80% of its workforce is below the age of 25".