A Dubai-based computer manufacturer which recently started using Sri Lanka as a base for their operations in the SAARC and Asia announced that it will soon be offering a third product into this territory. Expected in January 2010, the EZY SLIMTOP Smart is a desktop computer said to be "on par with anything currently in the market".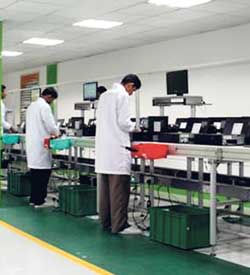 Picture shows a view of the company's laptop production facility
Further it specified was that its key differentiation would be its size at "1 inch wide, 7 inches tall and 6 inches deep and 580 grammes". "You could even put it in your handbag and carry it around," according to EZY Infotech Sri Lanka Chief Executive, Shafraz Hamzadeen.
Previously introduced, the SLIMTOP Classic, a desktop / net book with an Intel Atom 945 GCLF 1.6 GHz processor, 80 GB hard drive, 1 GB DDR2 memory and a 16" LCD monitor (but without speakers and DVD/CD drives), currently retails at Rs. 33,333.00 while the SLIMBOOK laptop is presently priced at Rs. 44,444.00, both seasonal offers at Browns.
When queried about sales since the August launch of its SLIMTOP desktop computer and the subsequent introduction of its SLIMBOOK laptop, Mr. Hamzadeen responded that the company had manufactured in excess of 10,000 computers and exported over 1,000. Further, he indicated that local sales were approximately 9,000 units.